Thirsties Natural One Size All In One Snap Mountain Range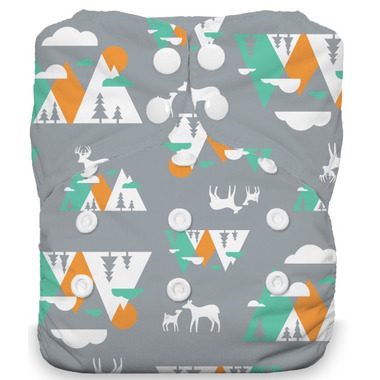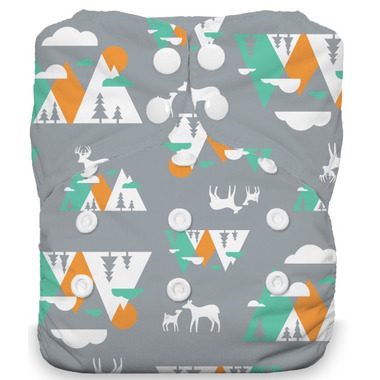 Thirsties Natural One Size All In One Snap Mountain Range
Please give a warm welcome to the all-new Thirsties Natural One-Size All-in-One diaper! This new, easy-to-use cloth diaper includes 11 thirsty layers of natural fibers: 3 layers of organic cotton in the body and 2 soaker pads with 8 layers of the same hemp/organic cotton used in the inserts and prefolds Thirsties customers have grown to know and love. Whether parents are first-timers at cloth diapering or old pros, this Natural option offers convenience, gentle elastic, a trim fit and incredible absorbency all with a simple one-and-done step.
Features:
Absorbent interior consists of 11 thirsty layers of natural fibers : 3 layers of organic cotton in the body and 2 soaker pads with 8 layers of hemp/organic cotton
One size diaper provides a customizable fit for most babies from birth to potty
Convenient, trim fitting and absorbent. Goes on in one simple step -cloth diapering doesn't get easier.
Gentle elastic around legs and waist provide protection against leaks
Available with hook & loop or snap closure

Prep- Wash and dry diaper at least 3 times before use to remove the natural oils from the cotton and hemp
Content:

Outer – 100% polyester with waterproof TPU laminate
Inner Liner – 100% organic cotton
Inner Absorbency – 2 layers of 100% organic cotton
Inner Soakers – 8 layers of 55% hemp/45% organic cotton

Andre:
more than a year ago
I am very pleased with this diaper! I've used Thirsties diaper covers for a while now and this was my first time trying their all natural AIOs. The fit is good and so far, no leaks. I use it mostly for naps and they have been great. I appreciate the fact that the material inside the diaper is all natural as I do not want any synthetic fiber touching my baby's skin (he has very sensitive skin and gets rashes so I had to get rid of my synthetic fibers diapers). I will order more of these and would recommend them to anyone looking for adorable AIOs with natural fibers. I also have natural AIOs from a competing brand which is more expensive and while I do notice their cotton is better quality than Thirsties, there is no significant difference in absorbency.
Page
1