Thirsties Natural One Size All in One Hook & Loop Diaper Happy Camper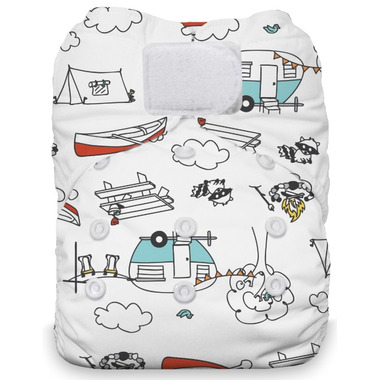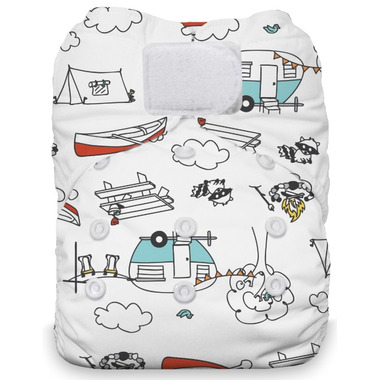 Thirsties Natural One Size All in One Hook & Loop Diaper Happy Camper
Please give a warm welcome to the all-new Thirsties Natural One-Size All-in-One diaper! This new, easy-to-use cloth diaper includes 11 thirsty layers of natural fibers: 3 layers of organic cotton in the body and 2 soaker pads with 8 layers of the same hemp/organic cotton used in the inserts and prefolds Thirsties customers have grown to know and love. Whether parents are first-timers at cloth diapering or old pros, this Natural option offers convenience, gentle elastic, a trim fit and incredible absorbency all with a simple one-and-done step.
Features:
Absorbent interior consists of 11 thirsty layers of natural fibers : 3 layers of organic cotton in the body and 2 soaker pads with 8 layers of hemp/organic cotton
One size diaper provides a customizable fit for most babies from birth to potty
Convenient, trim fitting and absorbent. Goes on in one simple step -cloth diapering doesn't get easier.
Gentle elastic around legs and waist provide protection against leaks
Available with hook & loop or snap closure

Prep- Wash and dry diaper at least 3 times before use to remove the natural oils from the cotton and hemp
Content:

Outer – 100% polyester with waterproof TPU laminate
Inner Liner – 100% organic cotton
Inner Absorbency – 2 layers of 100% organic cotton
Inner Soakers – 8 layers of 55% hemp/45% organic cotton

Lyn:
more than a year ago
Really great all in one diaper! Add with most all in one they take extra time drying but because of the two sep absorbent layers they dry faster than most. I wish the the second layer was removable is perfect for my son now but for a little one would be nice to remove one. We're using these as my son was quickly wetting his pocket diapers! So they hold up well to lots of wetness! My only complaint is that there's no stay dry layer for against babies skin I love that its cotton on his son but wish it was stay dry built in. But with a stay dry liner it's the perfect diaper! They fit great my 17mth old 25lbs boy is on the second rise snap with room to grow! Looking forward to trying these or in our next little boy too!!
Page
1