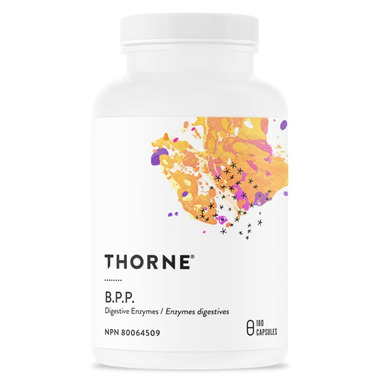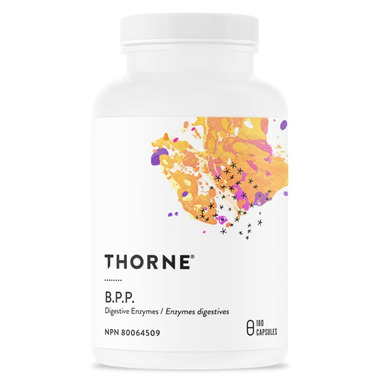 Thorne offers hydrochloric acid and pure pepsin. Unlike many supplement companies, the pepsin utilized in Thorne's product is pure, undiluted, and lactose-free. Thorne's pure pancreatin is also lactose-free and has the highest potency and purity possible. These elements are combined in one formula, B.P.P., to help aid in overall digestion. Individuals who may be low in hydrochloric acid production and have malabsorption of protein, carbohydrates, and fats should consider B.P.P.

Medicinal Ingredients:
Betaine Hydrochloride (synthetic) 520 mg
Pancreatic enzymes (porcine pancreas) 100 mg
Provides: Amylase 22,500 USP units/capsule
Protease 23,000 USP units/capsule
Lipase 3,500 USP units/capsule
Pepsin A* (porcine stomach) 3.0 x 105 FCC pepsin units/capsule 20 mg
*lactose-free
Non-Medicinal Ingredients:
Hypromellose (derived from cellulose) capsule
Silicon dioxide
L-Leucine
Recommended Dose:
Take 1-2 capsules with each meal or as recommended by your healthcare practitioner.
Risk Information:
Do not use if you are pregnant or breastfeeding; or if you have porcine allergies; or if you have gastritis, gastroesophageal reflux disease (GERD), or peptic ulcer disease. Consult your health professional prior to use if you are taking any prescription medications, such as acarbose. Discontinue use if you have a gastrointestinal reaction, such as abdominal pain, nausea, vomiting, and/or heartburn. Take with or immediately before a meal/food. Use the smallest effective dose that controls symptoms. Swallow whole/Do not crush or chew. If symptoms persist or worsen, consult your health professional. If you have a cardiovascular disease, diabetes, pancreatitis, pancreatic exocrine insufficiency or cystic fibrosis, consult your health professional prior to use. If you have gastrointestinal lesions/ulcers, are taking anticoagulant agents or anti-inflammatory agents, or are having surgery, consult your health professional prior to use. If you are sensitive to pancreatic enzyme or pork proteins, do not use this product. Hypersensitivity/allergy has been known to occur; in which case, discontinue use.Keep out of reach of children.