Musculoskeletal
240 Capsules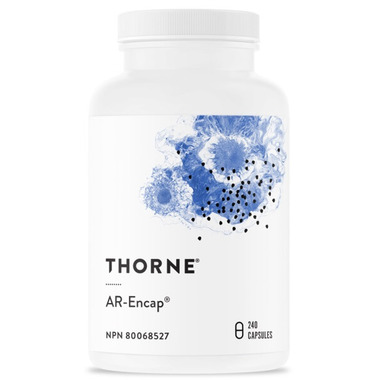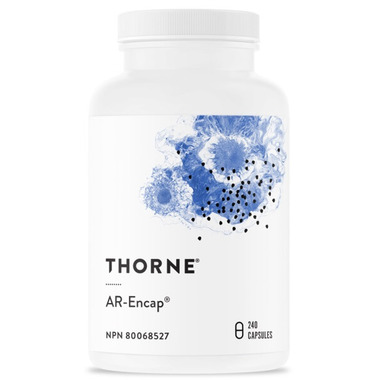 Thorne Research AR-Encap
Musculoskeletal
240 Capsules
Thorne Research is getting a fresh new look so you may receive the package shown above or the following. All ingredients have remained the same.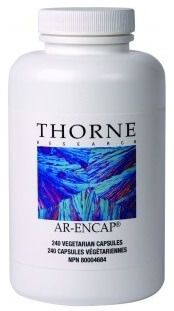 AR-Encap is a comprehensive joint support formula that goes beyond simple glucosamine supplementation.* This formula supplies 1,500 mg of glucosamine sulfate (suggested use – 4 capsules twice daily), which is the amount used in the majority of studies – in combination with joint-supporting nutrients and botanicals.*
In a study of healthy subjects with mild knee soreness, bromelain supplementation resulted in significant improvement with both 200-mg and 400-mg daily doses.1* Joint mobility was also improved.*
Curcumin, the principal polyphenol in the Indian spice turmeric, exerts antioxidant effects.* Curcumin Phytosome is a compound containing curcumin and phosphatidylcholine. This compound has significantly better absorption than ordinary curcumin and helps maintain a healthy cytokine balance throughout the body.*
Glucosamine provides significant joint support, as evidenced by numerous clinical studies. Methyl sulfonyl methane (MSM), also known as dimethyl sulfone and methyl sulfone, is an organic, sulfur-containing compound that occurs naturally in a variety of plants, and provides additional joint support.
Boswellia appears to inhibit the activity of lipoxygenase enzymes, thus promoting a healthy cytokine balance throughout the body.* A study of curcumin and boswellia found significant support of normal joint mobility in the group taking the botanical formula.2*
1. Walker AF, et al. Phytomedicine 2002;9:681-686.
2. Kizhakkedath R. Mol Med Rep 2013;8:1542-1548.
Medicinal Ingredients:
Four Capsules Contain:
Chloride (from Glucosamine Sulfate
Potassium Chloride complex) 87 mg
Potassium (from Glucosamine Sulfate
Potassium Chloride complex) 98 mg
Methyl Sulfonyl Methane (MSM) 850 mg
Glucosamine Sulfate (as Glucosamine Sulfate
Potassium Chloride complex) 750 mg
Indian Frankincense extract (gum)
(Boswellia serrata) 350 mg
Curcumin Phytosome† (Curcuma longa extract
(root) / Phosphatidylcholine complex) 250 mg
Bromelain†† 200 mg
†This product uses Indena S.p.A.'s curcumin phytosome (Meriva®). Meriva is a registered trademark of Indena S.p.A.

††Bromelain is derived from the pineapple plant
(Ananas comosus ).
Boswellia standardized to Beta Boswellic Acids 20%.
Non-Medicinal Ingredients:


Hypromellose (derived from cellulose) capsule
Leucine
Silicon Dioxide.
Recommended Dose (for pregnant and lactating women):
Take 4 capsules one to two times daily or as recommended
by your health-care practitioner.
Risk Information:
Consult a health-care practitioner if symptoms persist or worsen. Consult a health-care practitioner prior to use if you are pregnant or breastfeeding. Consult a health-care practitioner prior to using if you have excess stomach acid, or if you have stomach ulcers, a bile duct obstruction, or gallstones. Some people may experience mild gastrointestinal bloating, constipation or indigestion.