Thorne Research Green Tea Phytosome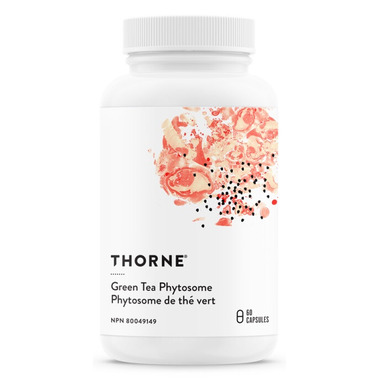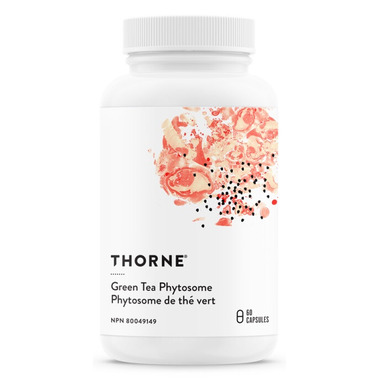 Thorne Research Green Tea Phytosome
A study on healthy volunteers compared absorption of a single 400-mg dose of green tea polyphenols as non-complexed standardized extract Greenselect or as the same extract complexed with phosphatidylcholine – Greenselect Phytosome. Peak blood concentration of EGCG from the phytosome, measured over a period of six hours, was approximately double that of the non-complexed green tea extract.
Green tea polyphenols are powerful antioxidants due to their particular flavonoid structures, and their glutathione-sparing activity has been well documented. Green tea polyphenols also help maintain the body's normal inflammatory response to oxidative stressors.
Green tea has a thermogenic effect. Extracts of EGCG increase energy expenditure and fat oxidation, thus essentially burning calories. Greenselect Phytosome was tested in obese subjects (n=100) of both genders on a low-caloric diet; 50 subjects were assigned to the green tea extract plus the low-calorie diet, while the other 50 subjects followed the low-calorie diet only. After 90 days of treatment, significantly greater improvement in weight and body mass index was observed in the Greenselect Phytosome group compared to the diet-only group.
Human studies of green tea's weight management properties resulted in greater calorie burning by individuals taking the extract. Although some of the effects of green tea extract have been attributed to the caffeine content, a study found increased metabolic rate and greater fat metabolism in study subjects taking green tea extract compared to those taking a placebo, even though the green tea extract did not contain caffeine.
Features:
Greenselect® Phytosome - a well-absorbed complex of green tea polyphenols and phosphatidylcholine
The antioxidant, liver protective, and metabolic benefits of green tea without the caffeine
Provides thermogenic (fat burning) effects
Optimum bioavailability from phytosome preparation
Medicinal Ingredients:
Per Capsule:
Green Tea-Phosphatidylcholine Complex 250 mg
(Camellia sinensis leaf extract (Standardized to 15% EGCG) / Glycine max (soybean))
Non-Medicinal Ingredients:
High and low viscosity hydroxypropyl methylcellulose, Calcium Laurate, Calcium Citrate, and Silicon Dioxide.
Recommended Dose:
Take 1 capsule two to three times daily or as recommended by a health-care practitioner.
Warnings:
Consult a health-care practitioner prior to use if you are pregnant or breastfeeding. Consult a health-care practitioner for use beyond 3 months. Consult a health-care practitioner prior to use if you have a liver disorder or develop symptoms of liver trouble (such as abdominal pain, dark urine or jaundice). Consult a health-care practitioner prior to use if you have an iron deficiency. Keep out of reach of children. Do not use if security seal inside the cap is broken. Store tightly sealed in a cool, dry place.