Thorne Research Melaton-3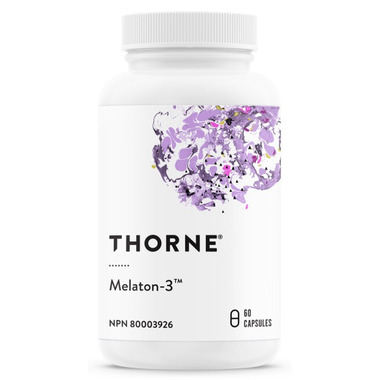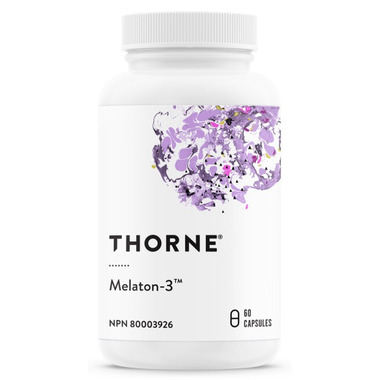 Thorne Research Melaton-3
Melaton-3 is ideal for those individuals requiring a moderate amount of melatonin. Contains 3 mg of melatonin per capsule.

Features:
Helps increase total sleep time (aspect of sleep quality) in people suffering from sleep restriction or altered sleep schedule, e.g., shift work and jet lag.
Helps reduce the time it takes to fall asleep (sleep onset latency aspect of sleep quality) in people with delayed sleep-phase syndrome.
Helps reset the body's sleep-wake cycle (aspect of the circadian rhythm).
Medicinal Ingredient:
Per Capsule:
Melatonin 3 mg
Non-Medicinal Ingredients:
Microcrystalline Cellulose, Hypromellose (derived from cellulose) capsule, Calcium Laurate, and Silicon Dioxide.
Recommended Dose:
Take 1-2 capsules one time daily at or before bedtime. Consult a health-care practitioner for use beyond 4 weeks.

Warnings:
Consult a health-care practitioner prior to use if you have a hormonal disorder, diabetes, liver or kidney disease, cerebral palsy, seizure disorders, migraine, depression and/or hypertension or if you are taking blood pressure or sedative/hypnotic medications. If symptoms persist continuously for more than 4 weeks (chronic insomnia), consult your health-care practitioner. Do not use if you are taking immunosuppressive drugs. Do not drive or use machinery for 5 hours after taking melatonin. Do not use if you are pregnant or breastfeeding.
Keep out of reach of children. Do not use if security seal inside the cap is broken. Store tightly sealed in a cool, dry place.