Three Farmers Camelina Oil
Roasted Garlic & Chili
250 mL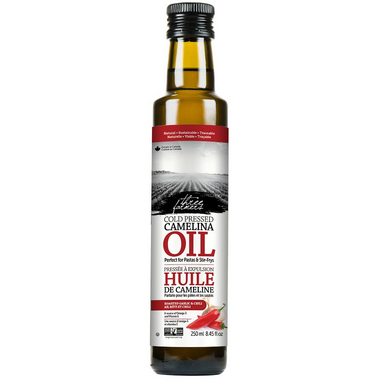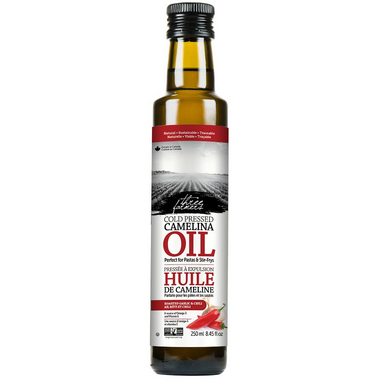 Three Farmers Camelina Oil
Roasted Garlic & Chili
250 mL
This Canadian-grown and harvested culinary oil has been coined the most healthy and versatile of all oils. Camelina has less saturated fat and contains more antioxidants than olive oil. It also has a much higher smoke point than flaxseed and walnut oils and it's a powerhouse in Omega 3 fatty acids and Vitamin E antioxidants. Camelina is displacing the other former heavy weight oils amongst foodies and chefs across the country!
The irresistible taste of roasted garlic paired with the kick of hot chili makes this oil perfect for pasta and stir-frys.
Features:
Contains Omega-3
Contains Vitamin E
High Heat Tolerance
Non GMO

Cold pressed
Ingredients:
Camelina Oil, Garlic extract, chili pepper extract.



Bruno:
more than a year ago
I squealed upon seeing this oil was sold here! I bought a 250 ml bottle of the Garlic & Chili and another 250 ml of the Onion & Basil Camelina Oil when I saw those products get a deal on Dragon's Den on a repeat episode about a year ago and they were almost empty.

I won't go over the nutritional benefits of camelina oil, they're stated here, on Wikipedia and all over the Internet. I like that it's a Canadian product too.

The main thing, though, is the taste. WOW. I mostly use the Roasted Garlic & Chili one for sauteeing vegetable and meats when making soup, pasta sauce, stews, etc. It does have a spicy zip to it. Not mouth-scorching, but you definitely feel the heat.

As for the Roasted Onion & Basil one, it's my favourite one. Oh, the basil taste is very pleasing, you have to try it! This one is mostly reserved for making vinaigrette, like a basic mix of this oil and apple cider vinegar when quick marinating cucumber. It's also very nice for cooking eggs.

Try them!
Page
1