Tilda Pure Steamed Basmati Rice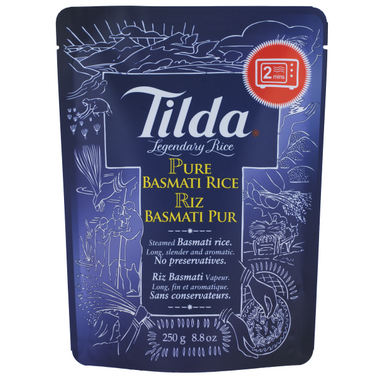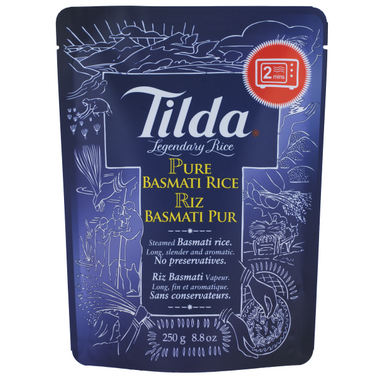 Tilda Pure Steamed Basmati Rice
The delicious fluffy grains of Tilda Steamed Basmati rice are pre-steamed and can be heated in the microwave in just 2 minutes, or stir fried in a pan with a little oil in 4 minutes. They are a perfect lunchtime alternative to a sandwich, side to an evening meal or a great ingredient in a larger dish. They are not only quick and delicious, but they are gluten free, suitable for vegetarians and free from any artificial colours, flavours or preservatives.
This unique rice with its longer, whiter grains has a beautiful subtle aroma and on completing the cooking the grains are light, fluffy and separate.
Features:
Steamed pure Basmati rice - heat & serve
Heat in microwave or stir fried in pan
Gluten-free
Vegan
No artificial colours, flavours or preservatives
Ingredients
: Basmati rice-cooked (98%), rice bran oil, salt
May contain nuts & mustard.