Trophic C-Punch Vitamin C + Probiotics
Orange Punch Flavour
30 Sachets

- We're sorry, this product is no longer available!
- Shop for other products in: Water Enhancers

C-Punch provides all the necessities for strong immune health, stable electrolytes & energy levels, peak metabolic function and a healthy microflora.
Features & Benefits:
Helps regulate and stimulate the immune system
Supports metabolism/glucose metabolism
Assists wound healing and tissue formation
Aids normal growth and development
Helps maintain healthy skin
Maintains proper muscle function
Helps improve digestion and intestinal health
Box conains 30 x 8.9 g sachets.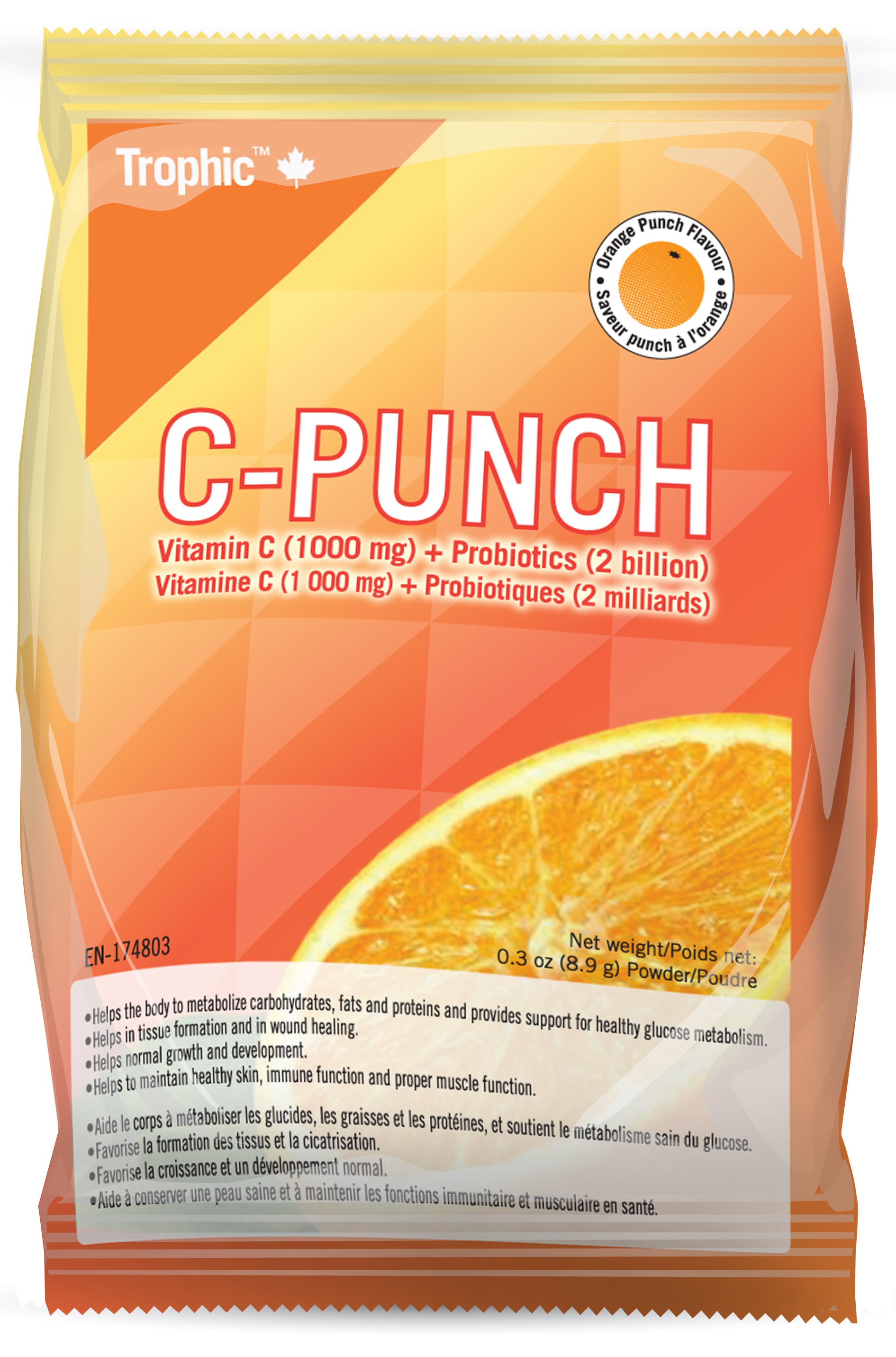 Directions:
Adults: In a glass, add water to 1 sachet (8.9 g) of powder and mix. 1 sachet per day with a meal, or as recommended by your healthcare practitioner. Take at least 2-3 hours before or after antibiotics or other medication.
Medicinal Ingredients (per 8.9 g sachet):
Vitamin C (Ascorbic Acid) ... 1000 mg
Thiamine (Thiamine Hydrochloride) ... 0,38 mg
Riboflavin (Riboflavin-5-Phosphate Sodium) ... 43 mg
Niacinamide ... 5 mg
Vitamin B6 (Pyridoxine Hydrochloride) ... 10 mg
Folate (Folic Acid) ... 30 μg
VVitamin B12 (Cyanocobalamin) ... 25 μg
Pantothenic Acid (Calcium d-Pantothenate) ... 2,5 mg
Calcium (Calcium Carbonate / Calcium Phosphate Tribasic / Calcium Phosphate Dibasic) ... 130 mg
Phosphorus (Calcium Phosphate Tribasic / Calcium Phosphate Dibasic) ... 62 mg
Magnesium (Magnesium Hydroxide / Magnesium Carbonate) ... 60 mg
Zinc (Zinc Ascorbate) ... 2 mg
Manganese (Manganese Gluconate) ... 0,5 mg
Chromium (Chromium Polynicotinate) ... 10 μg
Potassium (Potassium Bicarbonate / Potassium Carbonate) ... 100 mg
Lab4 Probiotics .... 2 Billion CFU

Lactobacillus acidophilus (CUL 60), Lactobacillus acidophilus (CUL 21), Bifidobacterium bifidum (CUL 20), Bifidobacterium animalis subsp. Lactis (CUL 34)
Non-Medicinal Ingredients:
D-fructose, sodium bicarbonate, citric acid, maltodextrin, DL-malic acid, silicon dioxide, glycine, L-tartaric acid, orange juice, natural orange flavour, beta carotene, annatto extract, sucrose, trehalose, L-Aspartic acid, magnesium sulfate, dibasic potassium phosphate, monobasic potassium phosphate.

Please be advised that Well.ca follows manufacturer guidelines for storing & shipping probiotics.