Trophic Greens Concentrate Powder
Melon Cucumber Flavour
247 g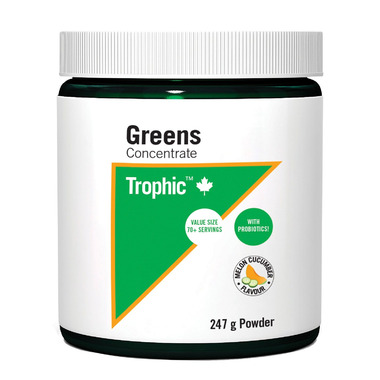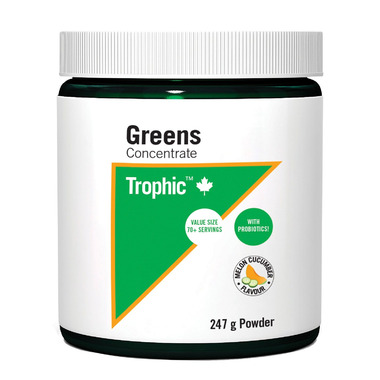 Trophic Greens Concentrate Powder
Melon Cucumber Flavour
247 g
Trophic's Greens Concentrate is a special, potent combination of superfoods that will help prevent harmful damage from free radicals and protect DNA and cells, while promoting the immune system to function optimally. Trophic Greens Concentrate was formulated to help relieve symptoms of fatigue, exhaustion and irritability by helping to boost energy levels and nutrient status, giving the body the capacity and endurance to handle day-today stress. Trophic Greens Concentrate contains the following superfoods:
Chlorella is a great source of plant nutrients and it contains significant amounts of protein, nucleic acids, vitamins, minerals, carbohydrates and lipids. It has been used to help increase the health and nutrient status of individuals and has been found to have antiviral, antifungal and antibacterial effects in recent animal studies. Chlorella has been used to help the tolerability of chemotherapy and radiation in patients with cancer, as well as those with lower nutrient status due to high demands, such as physical and mental stress.
Much like chlorella, spirulina is a great dietary source of many nutrients and is very high in protein, vitamins and minerals. Spirulina increases immune function.
Kamut is a grass often used as a flour alternative for individuals who have gluten or wheat sensitivities. It contains high amounts of protein, vitamins, minerals and other nutrients.
Barley is a nutritious food that helps to regulate and improve lipid profiles. It helps to lower high cholesterol and triglycerides, alongside preventing cardiovascular disease.
Beets are naturally full of antioxidants and have been used as supportive for the liver because of their betaine content.
Açaí (pronounced AH-sigh-EE) berry is the fruit from a palm tree found native to South America. It has a very potent antioxidant component as a result of the numerous polyphenols and anthocyanins it contains. In fact, it has more antioxidant power than cranberries, raspberries or blueberries. Other significant constituents of açaí include a rich amino acid/protein profile, as well as calcium, phosphorus, iron and thiamine.
The newly recognized active constituent of pomegranate juice is ellagic acid, now widely known for its cardiovascular protective properties.
Probiotics are bacteria that colonize the intestine and they work for us, not against us. These bacteria synthesize vitamins, improve digestion and elimination. This all translates into better immune function for the entire body, as well as improved health and well-being.
Goji fruit and bark have been used in Chinese medicine for centuries and are said to promote overall well-being and longevity. Goji has flavonoids that confer blood-pressure-lowering effects, as well as cholesterol- lowering effects. Goji is also reported to be excellent for helping reduce allergies and hypersensitivity.
Recommended Use:
As a source of beta carotene for the maintenance of good health.
Directions:
Adults, add 1 level scoop (2.5 g) of Greens Concentrate to 250 mL of pure water or juice and blend, stir or shake well and drink immediately. Best to take first thing in the morning. For freshness store in a cool, dry place.
Medicinal Ingredients (per teaspoon/2.5 g):
Spirulina (Spirulina platensis) (whole organism) ... 1375 mg
Beta Carotene ... 3300 mcg
Organic Kamut Juice Powder 33:1 (Triticum durum) (leaves) ... 250 mg
8.25 g Dried Equivalent
Organic Barley Juice Powder 10:1 (Hordeum vulgare) (leaves) ... 250 mg
2.5 g Dried Equivalent
Goji Berry Juice Powder 9:1 (Lycium barbarum L.) ... 250 mg
2.25 g Dried Equivalent
Organic Red Beet Juice Powder (Beta vulgaris) (root) ... 125 mg
Organic Chlorella (Chlorella vulgaris) (whole organism) (Cracked Cell) ... 125 mg
Acai Berry Extract Powder 4:1 (Euterpe oleraceae) ... 62.5 mg
250 mg Dried Equivalent
Organic Pomegranate Juice Powder (Punica granatum) (fruit) ... 57.5 mg
Dairy Free Probiotic Culture ... 4.5 x 108 cfu
(L. helveticus R052 and L. rhamnosus R011)
Non-Medicinal Ingredients: Natural melon-cucumber flavour, stevia leaf extract.
Contains:
Wheat, soy.