Tru Earth Bamboo Rounds Reusable Makeup Remover Pads
Tru Earth Bamboo Rounds Reusable Makeup Remover Pads
is rated out of
5
by
13
.

Tru Earth Bamboo Makeup Remover Rounds might just be the product that you've been waiting for.
Each package contains 14 reusable bamboo rounds that are perfect for removing any type of makeup application - no matter how small or big the task.
Simply apply water or makeup remover to the round and scrub the product off your face in a circular fashion. The absorbent, double-sided round effectively removes all product in a soft and gentle way.
These reusable bamboo rounds come with a reusable mesh laundry bag. This bag makes it easy to store all your used rounds in one location. When you are ready to wash your set of bamboo rounds, throw the laundry bag in your washing machine and carry on with your day. These bamboo rounds are quick to dry and can be used over 1000 times before needing to be replaced.
By switching to Tru Earth Bamboo Makeup Remover Rounds, you'll have found a simple and effortless way to reduce your eco-footprint. You'll love this product so much, that you'll never want to go back to using disposable cotton makeup remover rounds again.
Features:

14 Reusable Makeup Remover Rounds + 1 Reusable Cotton Laundry Bag
Made of 100% natural bamboo fibers
Soft and gentle on your skin: no irritation or fluff residue
Machine washable and quick to dry - over 1000 uses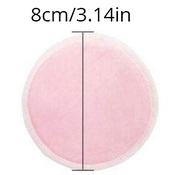 Rated

5

out of

5
by
tumblrgifvibes
from
Better than Expected
Feeling very good about these. I don't usually bother with reviews, but I'm impressed enough that I think others should know how great these are as an alternative to disposable cotton pads. The coloured side is velvety, and the reverse has a a texture almost like denim -- which does an excellent job of cleaning the skin without being abrasive like a sisal or a terry cloth... much softer. They're plush and highly absorbant for anyone else applying toner directly to the pad, and the little bag they come in (delightfully, it's the only packaging, by the way), can be used to keep them contained in the washing machine.
Date published: 2020-05-28
Rated

4

out of

5
by
Marlena
from
Great product but too absorbent
It's great that these pads are reusable and machine washable. I use them to apply toner and I find that they are too absorbent and I use more product than I did with regular cotton pads. They wash and dry (both in dryer and on clothesline) well.
Date published: 2020-09-18
Rated

4

out of

5
by
erinlizbet
from
Work well with some issues
These are beautifully made and far more comfortable on my skin than disposable rounds. I use them for eye makeup removal so I don't mind them being absorbent. I lay them flat to dry and I haven't seen them shrink or warp so far. I really wish they came in all dark colours because they do stain badly.
Date published: 2021-04-26
Rated

5

out of

5
by
Jennid
from
Love them!
I bought these a few weeks ago and really enjoy them. Love that they come in minimal packaging. Pads are soft and clean easily.
Date published: 2020-03-17
Rated

2

out of

5
by
Rachel-ann
from
Did not like
I bought these for makeup removal. They tugged on my skin and were inefficient at removing makeup. The two fabrics shrunk at different rates after washing (even w air drying), so they warped. They also stained easily. Great idea, hated using them.
Date published: 2021-01-30
Rated

4

out of

5
by
Kathleen
from
Good substitute, but not perfect
I love that they are reusable, but they're not a perfect substitute for the cotton ones. I find they are a bit more absorbant so it's not as good for putting on toner. Fine for makeup removal though.
Date published: 2020-09-21
Rated

4

out of

5
by
Kató
from
Overall good substitution for cotton rounds
I've used these with micellar water and rubbing alcohol and they work well. It has definitely decreased the amount of waste from my daily care routine. I find that putting the product on the flat white side uses less than the other side. Bag makes it very convienent to wash in machine.
Date published: 2022-02-10
Rated

5

out of

5
by
Rootni
from
Better than I expected
I really wasn't sure what I was getting but these cleansing pads are awesome. Much larger than I expected, so I only use 1/2 a pad to clean my whole face and neck. I keep a clean stack near my makeup remover and use the mesh bag to keep the used pads until I do laundry. I use the rougher side for the immediate cleanse, and then the plush side to get up any residual. Purchased 2 extra sets as Christmas gifts!
Date published: 2020-12-20