True Hemp Hip and Joint Sticks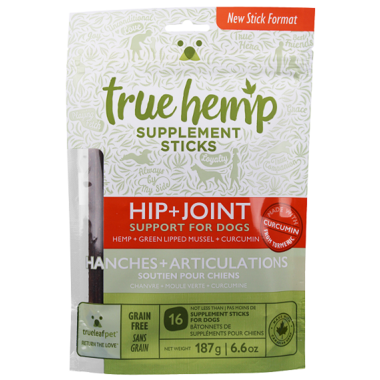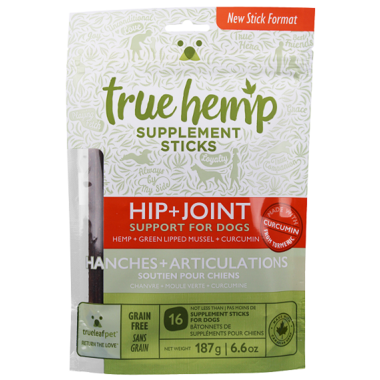 True Hemp Hip and Joint Sticks
True Hemp Hip and Joint Sticks alleviates the difficulty of watching our dogs age and slow down. This unique True Spirit® formulation combines hemp seed with active ingredients, creating a synergistic effect that supports joint function and the body's normal response to inflammation.
Features:

HEMP SEED: Contains SDA and GLA that enhances healthy joint fluid viscosity.
OMEGA 3 FATTY ACIDS: From hemp seed, salmon and green lipped mussel, eases joint stiffness due to normal daily exercise and activity.
GREEN LIPPED MUSSEL: A New Zealand shellfish that's known to help maintain cartilage and connective tissue.
CURCUMIN: Extracted from turmeric root to help remove damaging free-radicals and support a normal inflammatory response.
Active Ingredients Per 11 Grams (One Stick):

Hemp Seed Powder (500 mg)
Spray-dried Salmon (350 mg)
Cold Pressed Hemp Seed Oil (100 mg)
Omega 3 (hemp seed & salmon) (30 mg)
L-Theanine (AlphaWave® brand) (25 mg)
Chamomile Extract (12.5 mg)
Lemon Balm Extract (12.5 mg)
Inactive Ingredients: Dried potatoes, vegetable glycerin, gelatin, water, tapioca starch, natural salmon flavor, flaxseed, citric acid, natural preservatives.