Tuli's Classic Gel Heel Cups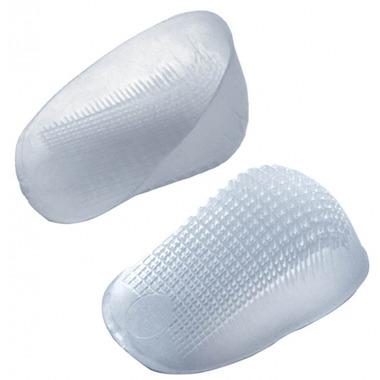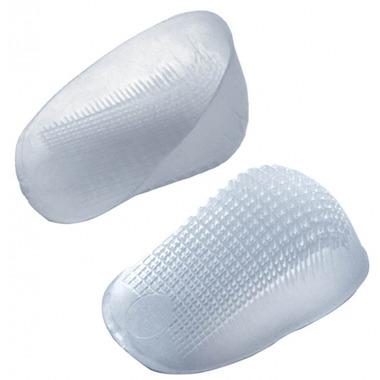 Tuli's Classic Gel Heel Cups
Nothing works better or lasts longer than your Tuli's - Shock absorbers for your feet! These Classic Gel Heel Cups provide additional thickness and support for athletic performance.
Tuli's patented, multi-cell, multi-layer "waffle" design absorbs shock and returns impact energy just like the system naturally found in your feet. Upon impact, the waffle construction bears down and rotates with the normal motion of the foot to absorb the shock of walking and running; keeping your feet, knees, hips and back in alignment for maximum comfort and performance.
The #1 Podiatrist recommended Tuli's heel cup provides immediate relief from heel pain by cushioning the area of pain and elevating the heel bone to take pressure off of the Achilles tendon which lessens the tension and allows for a regaining of flexibility.
TuliGEL is exclusively formulated to be lighter, softer and more resilient than other gels. Softer gel means better shock absorption and increased comfort with or without socks. It's so light you're likely to forget it's there.
Features:
Heel pain & plantar fasciitis
Promoting stability and proper alignment
Gel Heel Cups are light and soft on your feet

Sizing for the Best Fit
Regular - Men's shoe sizes 7 and under. Women's shoe sizes 9 and under.
Large - Men's shoe sizes 8 and up. Women's shoe sizes 10 and up.
L:
more than a year ago
Just what I needed to protect my heels from slipping/rubbing against my shoes, which cause bleeding. My feet become hot and sweaty when wearing them however, but I'll take that over the pain. I wear mine in flats and tried them in my socks for boots and they seemed okay. I think though, I received 2 different sizes in the package, but I was desperate and kept them anyway. So check to make sure yours are the same size!
Page
1