Turmeric Teas Joy Organic Turmeric Latte Blend
Vitalizing Latte Blend with Turmeric Root
100g Approx 80 Servings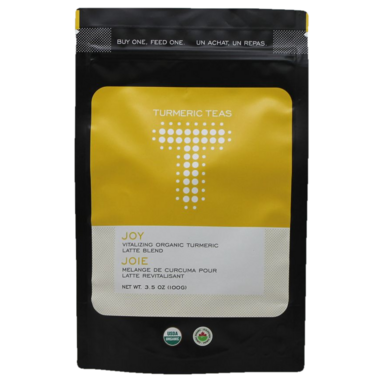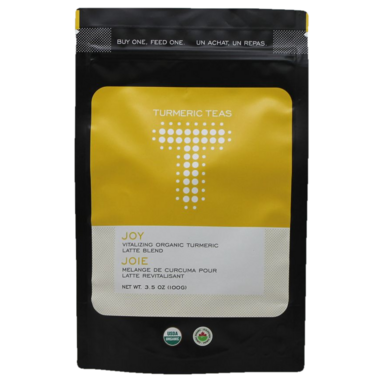 Turmeric Teas Joy Organic Turmeric Latte Blend
Vitalizing Latte Blend with Turmeric Root
100g Approx 80 Servings
A healthy, all season superfood latte blend with the goodness of turmeric root!
This delicious and warming latte blend is packed with superfoods to keep you healthy all season long. It has a perfect blend of warming spices like ginger and turmeric that are anti-inflammatory powerhouses, with powerful adaptogen ashwagandha. It includes cinnamon to help regulate blood sugar and provide natural sweetness and of course black pepper to improve the bioavailability of curcumin!
Health Benefits:
Immunity Boosting Ginger Root helps with digestion, flu symptoms, inflammation and more.
Superfood Turmeric's partner in crime Black Pepper to increase curcumin absorption by 2000%.
Anti-Inflammatory Superhero Turmeric that protects and heals your body from within.
Metabolism Boosting Cinnamon that regulates blood sugar.
Ayurvedic treasure Ashwagandha a known adaptogen that helps strengthen our body's vital components.

How to Steep:
Two delicious ways to enjoy!
1) Mix 1/2 tsp JOY into 1/4 cup of warm water, add 1 cup warm milk - stir and enjoy! (sweetener optional)
2) 1/2 tsp JOY, 1/4 cup warm water, 1 cup warm milk, + 2 pitted dates. Blend continents in a blender, and enjoy your latte!
Ingredients:
Organic turmeric, organic ginger, organic cinnamon organic ashwagandha, organic black pepper

With every purchase of this tea, Turmeric Teas makes a donation to Food Banks Canada to feed a hungry Canadian. Put simply, Buy 1 Feed 1. Their teas are blended and packed by hand in Toronto.