Turmeric Teas Summer Organic Loose Leaf Tea
Cooling Peppermint Tea with Turmeric Root
28g Approx. 20 Servings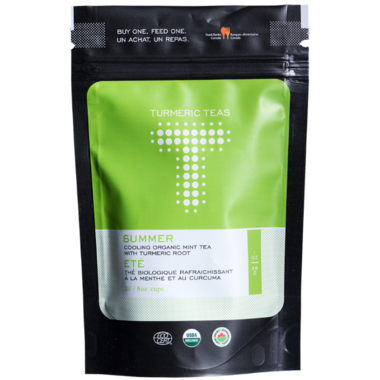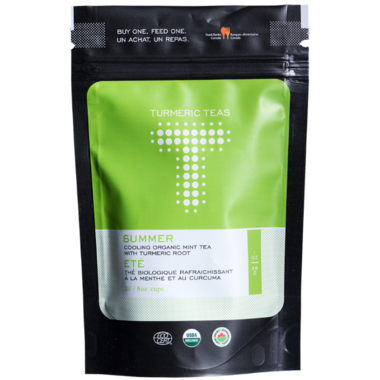 Turmeric Teas Summer Organic Loose Leaf Tea
Cooling Peppermint Tea with Turmeric Root
28g Approx. 20 Servings
A refreshing blend of peppermint tea with turmeric root, fennel and a touch of black pepper to cool off on a warm summer day or to simply unwind before bedtime. Caffeine free.
Health Benefits of Turmeric:
Several studies now show that curcumin, an active ingredient in turmeric, has potent properties that benefit our bodies. In fact, Scientists have found over 600 experimentally confirmed health benefits of this superfood. Curcumin aids in liver detox and keeps our bodies clean and rhythmic.
It also has potent anti-inflammatory properties making turmeric a perfect supplement for people suffering from joint pain or arthritis. Furthermore, curcumin is also proven to have several anti-cancer effects and is helpful in preventing and possibly treating cancer.
Additionally, curcumin has proven to rebalance chemical ratios that trigger adverse mental health causing depression and other mental illness - ultimately establishing itself as a powerful anti-depressant.
How to Steep:
1st cup:
I steep my first cup of hot tea in a french press for 5 minutes. Just add 1 tsp of your favourite blend and add 1 cup of boiling water. After 5 minutes press the leaves and your 1st cup of Tea loaded with the benefits of Curcumin is ready to sip.
2nd cup:
After I have poured it in my cup I add 1 more cup of hot water to the french press and let it steep while I am enjoying my my first cup (~ 8-10 minutes).
3rd and 4th cup:
I pour all the loose leaf tea and about two cups of water in a mason jar and store it in the fridge for a cold brew to enjoy after work.

Ingredients:
Organic peppermint, Organic turmeric root, Organic fennel, Organic black pepper.
With every purchase of this tea, Turmeric Teas makes a donation to Food Banks Canada to feed a hungry Canadian. Put simply, Buy 1 Feed 1. Their teas are blended and packed by hand in Toronto.