Twisty Petz Series 3 Bumble Bear Family Pack Collectible Bracelet Set
Twisty Petz Series 3 Bumble Bear Family Pack Collectible Bracelet Set
is rated out of
5
by
30
.

- We're sorry, this product is no longer available!
- Shop for other products in: Collectibles

What's cuter than adorable animal families? Twisty Petz Families! Twisty Petz are the sparkly gems that transform from a pet into a bracelet!

This sweet family set includes: two full-size Twisty Petz, four super cute Babies and a special charm. In Series 3, collect Bumble Bear, Uni-Cat, Rainbow Puppy and Unicorn Families!

Transform your family into sparkling rings, bracelets and necklaces there are so many ways to accessorize! To create bracelets, attach two Twisty Petz Babies together or connect the ends of a full-size pet. With two twists, turn your blingy jewelry pieces back into your favorite pet, super cute from nose to tail. Collect all four Twisty Petz Family Packs to add to your collection and take them with you everywhere you go!
Features:

FASHIONABLE COLLECTIBLE JEWELLERY: Twisty Petz are the gem bracelets that transform into adorable, collectible animals! Make rings, necklaces and bracelets, wear on a backpack or take them with you on the go!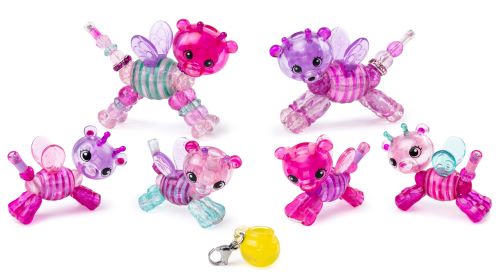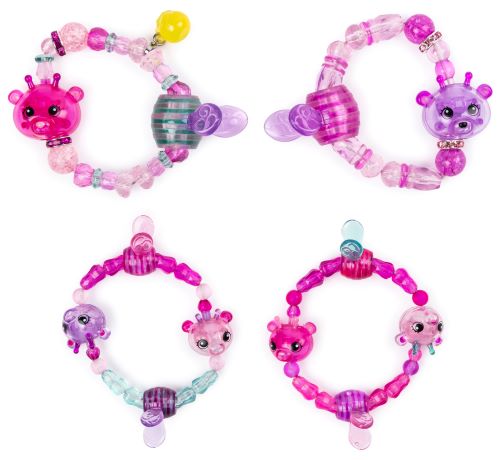 Rated

5

out of

5
by
Brateyes77
from
I received this toy for free and we were over the moon to be accepted to test it and to receive it. My daughter was so excited, grateful and happy when she saw it! She absolutely loves these fun jewelry toys. We got the kitty/unicorn set of twistables jewelry toys. It came with 5 different styles of twist it rings and bracelets. She hasn't been able to put them down since she got them and it was super easy to show and teach a 4 year old how to twist and untwist and latch together these toys. They are so fun and unique and they would make a great gift for any child to play with and to wear for hours! (This review was collected as part of a promotion.)
Date published: 2019-09-23
Rated

5

out of

5
by
Odell.ashley2
from
My girls have been obsessed with jewelry lately and when we recieved our package we were sooo excited to find out it was Twisty Petz!! My girls are 4 and 2.5, and they love these. They havent figured out how to turn them from bracelets/rings back into animals, but they are more interested in wearing jewelry so it hasnt been much of an issue. We love the family pack as you can make necklaces, bracelets or rings. Such a great value and I'm sure this will get played with for a long time. I definitely reccomend Twisty Petz to anyone with little ones who love jewelry and dress up! (This review was collected as part of a promotion.)
Date published: 2019-08-31
Rated

4

out of

5
by
cdmadison1976
from
I received the Unicat family by Twisty Petz from FamilyRated and thought they were adorable. The clear little beads look like cats, 2 big and 4 small with alittle charm. You untwist them and their body's connect at the head and tail to form either rings or bracelets. You can also connect others to make them bigger. Also you can twist them back to form the whole kitty. I am totally sold on these and would love to get the whole collection of 3 more families of bears, puppies and unicorns. These are great for ages 7+, younger than 7 could be a choking hazard. We played dress up and pretend and had a blast with these. (This review was collected as part of a promotion.)
Date published: 2019-09-13
Rated

5

out of

5
by
Amberlynne1184
from
This is absolutely adorable!!! It's full of so many colors and shapes! I love how the cute animals look and how you can shape them into jewelry and then back again to a animal! Makes it alot of fun for little girls! My daughter played with this for hours. She even wore a piece to school today to show all her friends. There was a lot of thought put into the design as each stone piece is so unique and full of creativeness. Love that it even comes with a extra charm! We will definitely purchase more. We received this free for our honest opinion! (This review was collected as part of a promotion.)
Date published: 2019-08-30
Rated

5

out of

5
by
Gabby_715
from
My 4 and 7 year olds love these! They are constantly making them into kitties and then back to bracelets/rings. They love to play "house" with them. The large ones are a little harder to turn back into cats so I have to help them with those. We love the colors and their cute little "collars". The "rings" are a little big so they dont wear them very often. But the bracelets fit both of them really well. I was even able to wear the bracelet myself and the ring was more my size than theirs. That just makes playing together more fun! (This review was collected as part of a promotion.)
Date published: 2019-09-02
Rated

5

out of

5
by
Whitt88
from
Twisty Petz Collectible Bracelet Set - Family Pack Unicorns! These were the best thing ever that was easy for my daughter to play with. She made bracelets and necklaces with the Unicorns. She even had a baby attached to her backpack and it went to school with her. Push in the hole to lock it and pull out to make or attached more to the Unicorn.. very fashionable and goes with any outfit ;) as my daughter told me. I would so buy this for my daughter or my daughters classmate. Highly recommend! #gotitfree (This review was collected as part of a promotion.)
Date published: 2019-08-29
Rated

5

out of

5
by
adrazen
from
I have 2 daughters that are 4 and 6 years old and they absolutely love this! They love all things puppy, and they love that they can play with this toy as puppy figurines and also create jewelry. The colors are beautiful and this toy is very well-made. My 4 year old daughter is quite rough with her toys, and this product has held up very well. I love that this toy has multiple uses. I have not seen anything else like it, which makes it a unique gift to give as a birthday present to friends. (This review was collected as part of a promotion.)
Date published: 2019-10-01
Rated

5

out of

5
by
Ashleyo814
from
My girls LOVE Twisty Pets, so they were SUPER excited to have the family pack, as we haven't seen them in stores yet. Such pretty colors and I love that there was an even number to split between 2 girls. One of their favorite things to do is twist and untwist back into pets and the newer sets seem to hold better than the older series. Even the babies weren't as difficult to do as they previously were. They love them and were so thrilled to test out! (This review was collected as part of a promotion.)
Date published: 2019-09-03