Children's Tylenol Fever & Pain Fastmelts
Dye Free Orange Burst
20 Tablets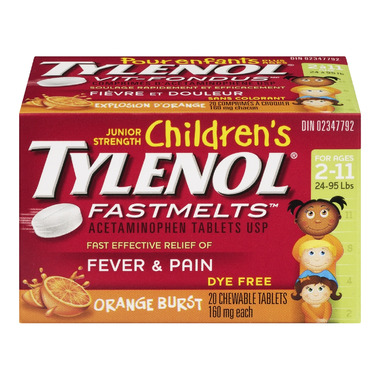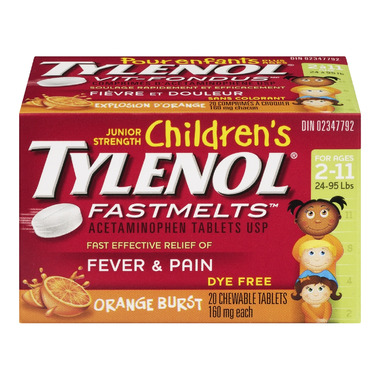 Children's Tylenol Fever & Pain Fastmelts
Dye Free Orange Burst
20 Tablets
When your child is sick, all you want to do is make them feel better. This often includes providing them with medicine to effectively relieve their fever or pain. You just want them to be able to get well and back to normal.
Try Junior Strength Children's Tylenol Fastmelts. For over fifty years, parents and doctors have placed their trust in Tylenol for fast, effective relief of fever and pain due to toothaches, immunizations, colds or flu.
Junior Strength Children's Tylenol Fastmelts dissolve in your child's mouth to deliver the medicine that will help them get back to normal. Junior Strength Children's Tylenol Fastmelts are available in yummy flavours to ensure your child will take the correct dose to help them to feel better.
For children 2-11 years. For effective relief of:
Due to immunizations, colds, flu, headache, toothache, minor muscle aches, pains or sprains.
Medicinal Ingredients:
Each tablet contains:
Pain reliever/Fever reducer (per tablet): Acetaminophen, 160 mg
Non-Medicinal Ingredients (alphabetical):
citric acid, copovidone, corn starch, crospovidone, ethylcellulose, flavour, lactose, magnesium stearate, mannitol, silicon dioxide, sorbitol, sucralose.
Caution:
Keep out of the reach of children. Do not use with other drugs containing acetaminophen. Do not give more than the maximum daily dose. Overdose may result in severe or possibly fatal liver damage. Do not give if your child is allergic to acetaminophen. Consult a doctor if symptoms last more than 5 days, fever lasts more than 3 days or your child develops allergic reactions such as wheezing, rash or itching. Ask a doctor or pharmacist before use if your child:
Has a serious liver or kidney disease
Uses any other medications including natural health products, prescription drugs, salicylates or other pain and fever relief medications
In case of overdose, call a Poison Control Centre or doctor immediately, even if you do not notice any possible signs or symptoms such as increased sweating, nausea, vomiting, stomach pain, and loss of appetite.
WARNING:
Do not use if carton is open or if printed bottle neck band or inner foil seal is broken. Store at room temperature, 15 - 30°C (59 - 86°F).