Udo's Choice Ultimate Digestive Enzyme - Daily Maintenance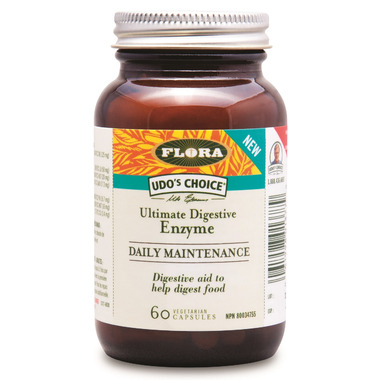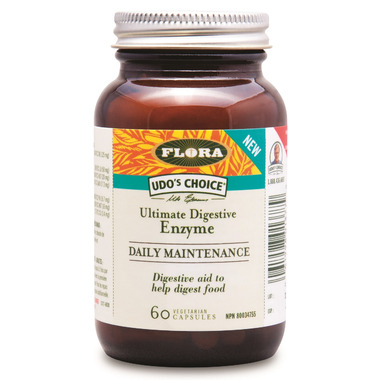 Udo's Choice Ultimate Digestive Enzyme - Daily Maintenance
Digestive enzymes are catalysts that enable the body to break down fats, carbohydrates, proteins, sugars and fibre. The body's production of natural enzymes is decreased by stress, caffeine, alcohol, illness, pregnancy and simply aging. Cooking destroys nearly all of the enzymes in food. This is where Udo's Choice® Ultimate Digestive Enzymes can help, they begin breaking food down from the moment you start eating, to ensure proper digestion and optimal nutrient absorption from your diet.

Features:
Taken daily to ensure optimal absorption of vitamins and minerals
Formulated to help digest fats, proteins, carbohydrates and fibre
Replaces natural enzymes that are lost from cooking
Adults: 1-2 capusules up to 3 x daily.
EACH VEGETARIAN CAPSULE CONTAINS
:
MEDICINAL INGREDIENTS:
Alpha-amylase (Aspergillus oryzae)5000 FCC DU (156 mg)
Lipase (Triacylglycerol lipase / lipase triacylglycérole
Rhizopus oryzae) 1000 FCC LU (58 mg)
Protease 4.5 / Protéase 4.5 (Aspergillus oryzae) 10000 FCC HUT (20 mg)
Alpha-galactosidase (Aspergillus niger) 260 FCC GalU (20 mg)
Stem bromelain / Broméline de tige (Ananas comosus, pineapple stem/tige d'ananas) 500000 FCC PU (17 mg)
Protease 6.0 / Protéase 6.0 (Aspergillus oryzae) 8000 FCC HUT (16 mg)
Cellulase (Trichoderma longibrachiatum) 275 FCC CU (4 mg)
NON-MEDICINAL INGREDIENTS:
Microcrystalline cellulose, magnesium stearate, maltodextrin and hypromellose
Consult a health care practitioner if symptoms persist or worsen. For prolonged use, consult a health care practitioner.
Vegetarian, Vegan, Gluten Free, Yeast Free, Dairy Free