Uncle Lee's Bamboo Tea Chest
12 Flavours (5 each)
60 Tea Bags Total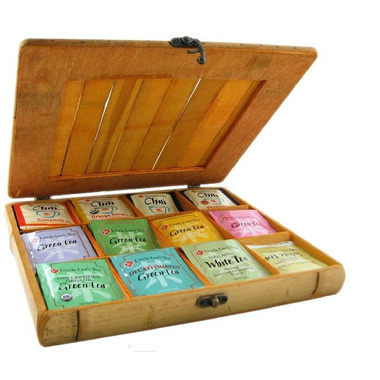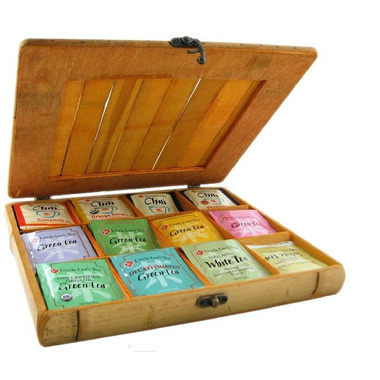 Uncle Lee's Bamboo Tea Chest
12 Flavours (5 each)
60 Tea Bags Total
- We're sorry, this product is no longer available!
- Shop for other products in: Bagged Tea

Uncle Lee's Teas exotic tea chest contains 12 flavours of tea for a total of 60 tea bags. Uncle Lee's Tea chest makes a great gift all year round, especially for a friend who loves teas as well as a gift for someone in an office surrounding, as this chest can be reused all year round to hold and display Uncle Lee's teas in the employee break area, or customer reception area. A sampling of many flavourful varieties of organic green, white, and chai teas is a great gift for anyone. The beautiful bamboo chest gift set also could be put on display.

Uncle Lee's Teas are all natural, packed with anti-oxidants, QAI certified, and have environmentally friendly paper tea bags.

Contains:

Organic Cinnamon Herbal Chai
Organic Orange Ginger Herbal Tea
Green Tea with Lemon Chai
Organic Peppermint Herbal Chai
Organic Green Tea
Organic White Tea
Organic Lemongrass Jasmine White Tea
Jasmine Green Tea
Green Tea
Tropical Fruit Green Tea
Cinnamon Apple Green Tea
Decaf Green Tea
Uncle Lee's Tea
Uncle Lee's Tea Inc. is currently part of the largest and best known tea company (Ten Fu) in the Far East with over 10 tea factories and more than 500 stores throughout the continents of Asia and North America. Owned and operated by third generation of tea producers, Uncle Lee's maintains the tradition of offering some of the best quality tea to discriminating drinkers around the globe.