Uncle Lee's Whole Leaf Organic Japanese Sencha Tea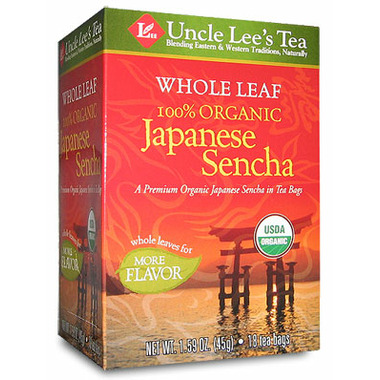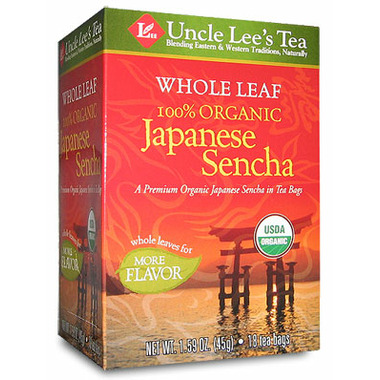 Uncle Lee's Whole Leaf Organic Japanese Sencha Tea
Only Uncle Lee's packs extra-large tea bags with whole leaves. This unique method means a higher-quality tea with more flavour and health benefits for you.

Japanese Sencha ("common tea"), the most popular tea in Japan, is steamed immediately after harvesting to prevent fermentation and to preserve the natural flavour.

Uncle Lee's Whole Leaf Organic Sencha has a slightly sweet, grassy taste and a fresh aroma. Taste the difference of the Uncle Lee's Organic Whole Leaf Tea.



Ricci:
more than a year ago
I love the taste of teas you get when you go out for sushi or Japanese/Chinese, and heard that they always serve Jasmine. However, though Jasmine is a lovely tea, this tea is also served! You'll know it as soon as you taste it. If you're a fan of those teas, you will love this tea!
Ishraf:
more than a year ago
Sencha is your everyday go-to green tea, as the description says on the back of the package. widely loved in japan, the original home of green tea, i've found a cup of sencha to be quite energizing. Dragonwell tea is slightly of a higher grade than Sencha, but for a stronger kick (Dragonwell is more mellow), I would say definitely go for Sencha!
Al:
more than a year ago
This tea is SO much better than your average green tea. In so many ways too! Because it's whole leaf more antioxidants, more L-theanine, more flavor and it's actually green, not yellowy-brown like Liptons & Tetley for example. The two basic grocery store teas.
And because it is a kind of tea plant grown in sun, it has less caffeine than regular Chinese shade grown green teas. Just enough to help your brain focus.
My new favourite tea! My wife likes it just as much as I do.
Page
1