Urban Hippie Cranberry Pumpkin Seed Granola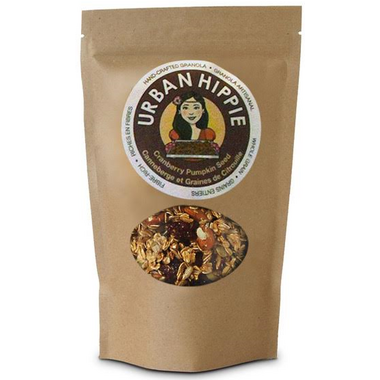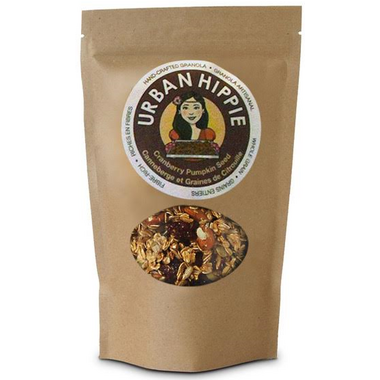 Urban Hippie Cranberry Pumpkin Seed Granola
Enjoy the burst of cranberry flavour mixed with crisp roasted pumpkin seed for this enjoyable breakfast cereal or snack. Enjoy your breakfast like nature intended.
The health benefits of consuming cranberries include lowered risk of urinary tract infections, prevention of certain types of cancer, improved immune function, decreased blood pressure. Pumpkin seed benefits include heart healthy magnesium, zinc for immune support, plant-based Omega-3 fats and prostate health. This Urban Hippie Granola also goes great on yogurt, with milk or by the handful. Perfect for pre/post workouts.
Features and Benefits:
Whole grain
High in fibre
Dairy free
Nut free
Vegan Friendly
Non-GMO
Contains organic ingredients

No artificial ingredients, preservatives or colouring
Ingredients:
Non-GMO Oats, Organic Cranberries, Organic Pumpkin Seeds, Canola Oil, Brown Sugar, Sea Salt, Cinnamon, Vanilla.