Vaseline
Vaseline Healing Jelly Petroleum Jelly
For sensitive, dry skin. Original hypoallergenic 50 g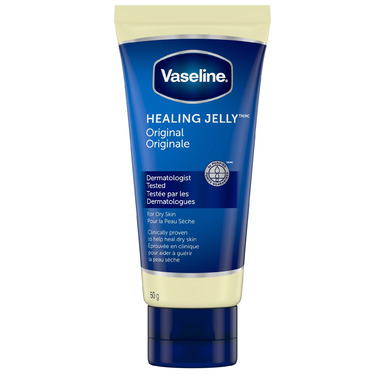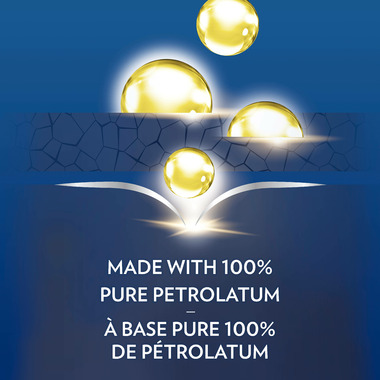 Vaseline
Vaseline Healing Jelly Petroleum Jelly
For sensitive, dry skin. Original hypoallergenic
50 g
Vaseline Healing Jelly Petroleum Jelly
is rated out of
5
by
14
.
---
Description
Vaseline Original Petroleum Jelly is the original skin protectant – it has been used to protect and help heal dry skin since 1870, and it has effectively cared for our skin since. Triple-purified and hypoallergenic, it is the ideal product for a multitude of uses, including a moisturizer for dry skin.
This Original Petroleum Jelly is a product you can trust. Its triple-purification seal guarantees each jar has been purified not once, but three times to remove any impurities. It is dermatologist recommended and effective for people with extremely dry and sensitive skin, thanks to its fragrance-free, hypoallergenic moisturizing ingredients. This petroleum jelly is also non-irritating and non-comedogenic (it won't clog your pores) and penetrates into surface skin layers. It locks in moisture and creates a protective barrier that protects skin against environmental factors, such as windburn or cold weather. By restoring skin's moisture, it assists the skin's natural recovery to help your dry skin heal. A good skin moisturizer should be gentle on the skin, safe, and effective.
Vaseline's Original Petroleum Jelly combines all these requirements in one convenient, flip-cap jar. With regular use, you can easily maintain smooth, deeply moisturized skin with our kind-to-skin moisturizer. Explore Vaseline products and body lotions to see their many possible applications, from personal care, baby care, to everyday beauty.

Features:
Instantly boosts your dry skin's moisture for smooth and moisturized skin
Made with 100% pure petroleum jelly, triple-purified moisturizer provides relief to dry skin
Suitable for daily use, locks in moisture for soft and healthy-looking skin
The hypoallergenic and dermatologist recommended formula is non-comedogenic (won't clog pores)
This Vaseline Petroleum Jelly is excellent for sensitive, dry, and itchy skin
Vaseline offers skincare products that protect and help skin stay healthy for long

Rated

5

out of

5
by
olmeadows
from
Nightly ritual for 20+ years!
Vaseline has been a staple for me. Mom used it on herself and me for my entire life. I've used it wherever I am experiencing dry skin for miracle-soft skin in the morning. Every night I use vaseline on my lips and in the winter I rub it on my knuckles, elbows and nasal areas to relieve dryness. It is a miracle product. It soaks in, doesn't cause pimples and in the morning, it is like all of my dry skin has been erased. Vaseline comes with me wherever I go - even camping!!! It's an amazing, long-lasting product that cures dryness without causing skin problems.
Date published: 2015-04-21
Rated

5

out of

5
by
MoistureCovered
from
Best moisture for your money
I use nearly 9000g of the Original Vaseline Jelly per year on my 5yr old daughter to help her severe Atopic Dermatitis. This is the only affordable moisturizer that does the job without causing additional skin irritation. We have tried many other creams and ointments including other brands of petroleum jelly. This is the best product we have found for her skin routine. My only complaint is I cant get the stains out of my clothes when it gets on them and it rapidly breaks down the elastic fibers in some of her clothing so we have to be careful of what we wear.
Date published: 2015-12-17
Rated

5

out of

5
by
Harmony10
from
Crispy lips no more!
I love love love vaseline ! I'm a young adult and my mom's been slathering this stuff on me for years! I like to apply a thin layer of olive oil or coconut oil before applying this lip balm! I find when I add the vaseline on top of the oil it helps to lock in the oil and moisture in my lips! Vaseline if I had one wish for a product you could make it would be a she's Shea butter or olive oil line.
Date published: 2017-02-18
Rated

4

out of

5
by
Naumie
from
Very helpful for my dry lips, after using at night, miracle happen the next day
Date published: 2015-09-03
Rated

3

out of

5
by
Boorum
from
PACKAGE IS NOT SEALED
I love this product but the packaging need work. It has no seal what so ever. If you would just add some kind of sticky tape or sealer around the container that would make me feel much better. Love the product it does wonders in so many ways!!
Date published: 2021-03-22
Rated

5

out of

5
by
Flo
from
compact product
I like the size and shape of this tube of vaseline. The small amounts needed can easily be accessed by a tiny squeeze then stored upright on a shelf.
Date published: 2020-07-30
Rated

5

out of

5
by
Mom1girlz5
from
Great Moisturizer
I have used Vaseline brand petroleum for years, and when they came out with the Cocoa Butter formula, it was even better. I swear by the Cocoa Butter formula, especially after showering. It is also used on my kids' eczema. I get a lot of compliments on my glowing, naturally healthy skin, and Vaseline with Cocoa Butter brand is all I use for moisturizer.
Date published: 2019-08-09
Rated

5

out of

5
by
Lakes9
from
Eases dry skin
Years ago my skin became extremely dry and sensitive. I couldn't use my regular facial creams, and was frustrated and sad that my skin was so reactive. I read in a magazine how Vaseline petroleum jelly could help, even heal, dry skin. It was true. I still use Vaseline daily. It doesn't clog my pores, and my rosacea does not react to this product.
Date published: 2020-12-11