Vega
Vega Maca Chocolate Bars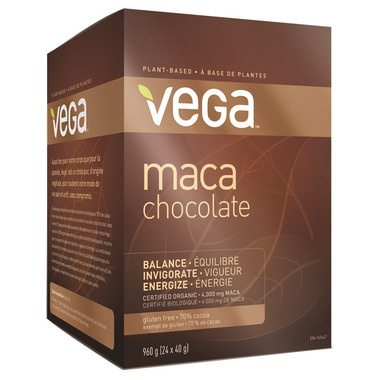 Vega
Vega Maca Chocolate Bars
Description
Succumb to your chocolate craving, apology-free. Indulgent and silky, each deliciously decadent bar of Vega Maca chocolate combines 4,000mg of premium organic gelatinized maca — renowned for its ability to balance, invigorate and energize — with 70% cocoa dark chocolate.
Ancient, native Peruvians used maca for thousands of years as both a food and a tonic. They believed it increased energy and stamina, improved fertility and enhanced libido.
Blending the benefits of maca with the power of rich, organic dark chocolate is sure to arouse the desire of even the most health-conscious taste buds. Vega Maca is organically grown in partnership with Peruvian farmers.

Try this maca chocolate bar chopped as a splendid substitute for chocolate chips in baking recipes. It's in these gluten free donuts with peanut butter frosting found on our blog, The Well!
Medicinal Ingredients per bar (40 g):
Organic gelatinized maca (Lepidium meyenii) root powder ... 4,000 mg
Non-Medicinal Ingredients:
Organic dark chocolate 70% cocoa (organic cocoa mass, organic evaporated cane juice, organic cocoa butter, organic soy lecithin, organic vanilla).
Highlights