Veggie Go's Chewy Fruit and Veggie Strip Beet, Apple and Cinnamon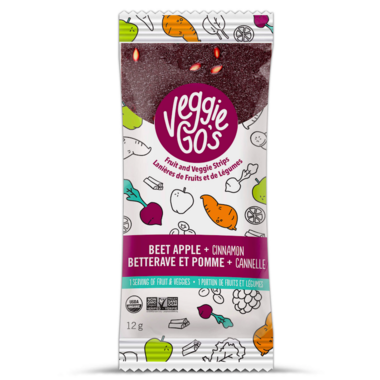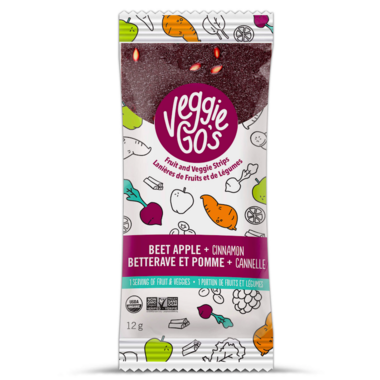 Veggie Go's Chewy Fruit and Veggie Strip Beet, Apple and Cinnamon
Creative combinations rule our kitchen, and these Beet, Apple + Cinnamon Veggie-Go's Strips prove it. Each robust and bountiful bite is loaded with the pleasing flavors and powerhouse nutrition of earthy beets, fresh apples, spicy cinnamon and nutty flax seeds. Even more delighting, you can actually taste the individual ingredients that make up this snack's subtle and satisfying sweetness. You see, one-note flavors aren't welcome here. We think veggie-fueled imagination is a far better fuel to feed your journey.
Features:
1 strip contains approx. 1/2 cup of fruit and veggies
100% Certified Organic
Non- GMO Certified
Less than 20 calories per bar
No added sugar
Gluten Free
Vegan
Ingredients: Organic Apple Puree, Organic Beet Puree, Organic Sweet Potato Puree, Organic Flax Seeds, Organic Cinnamon and Organic Lemon Juice Concentrate.
Made in a facility that also processes Tree Nuts and Milk.