VitaJuwel Luna ViA Glass Water Bottle
Rainbow Moonstone, Clear Quartz
500 ml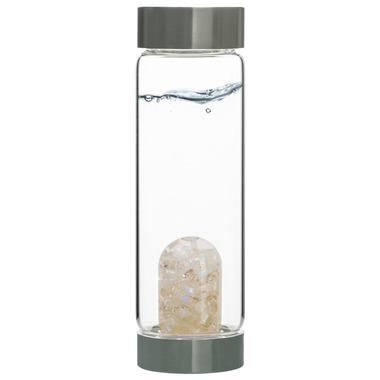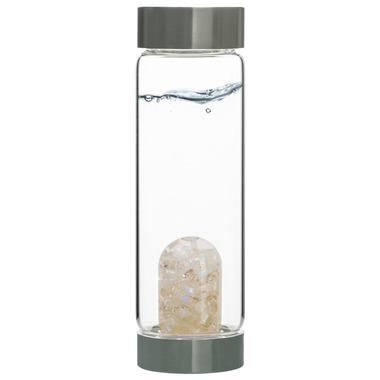 VitaJuwel Luna ViA Glass Water Bottle
Rainbow Moonstone, Clear Quartz
500 ml
Placing crystals in drinking water uses crystal energy to restructure the water and charge it with negative ions, which are believed to increase levels of the mood chemical serotonin, helping to alleviate depression, relieve stress, and boost your daytime energy.
As the name suggests, Luna is strongly connected to the energy of the moon, making it first and foremost, a women's stone. In traditional healing practices it is used to help strengthen a woman's intuitive sense, open the heart and to get in balance with the natural cycles of life. Wise women know about the effects of the moon on their body. Vibrating with the light of a full moon, rainbow moonstone provides a reflective, calming energy. Even men are said to benefit from empowering their gentler, more feminine side.
Your VitaJuwel ViA is your companion for gem water on-the-go. The exchangeable gem pod on the bottom of the bottle can just be screwed off. That way you're able to always have your favorite gemstone blend with you. Cleaning the bottle is as easy as 1-2-3: Simply twist off both the lid and the gem pod and rise with water. VitaJuwel ViA consists of lead-free glass and holds a generous 500ml.
Features:
Rainbow moonstone (white labradorite) and clear quartz promote intuition, empathy, and sensitivity

Fair Trade minerals & gems
Easily create structured water on-the-go!

Inspired by the wonders of nature

Designed in the Alps and hand blown in Europe
Lead-free glass
Holds 500 mL of water

Bottle unscrews at the bottom for easy cleaning and simple changing of the gemstone pod

Help save the environment by using this refillable glass bottle
This Gem accessory is your very own piece of jewellery for your water. Enjoy!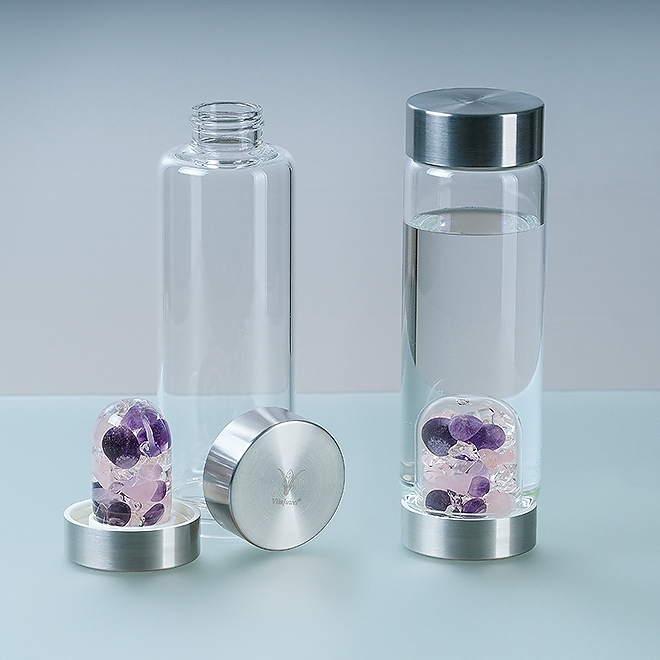 Change your gemstone mixture in seconds with the innovative gemstone pod. VitaJuwel ViA already comes with one interchangeable pod. Discover a fascinating variety of other available mixtures. Have a "Love" ready or prepare yourself "Luna" after dinner...