Viva Nutraceuticals ProsTac Prostate Health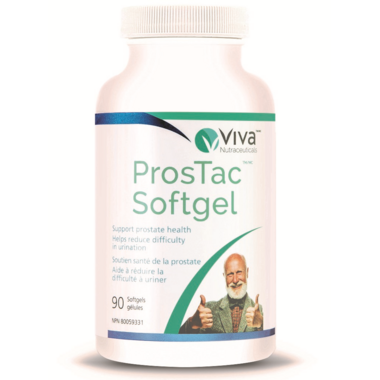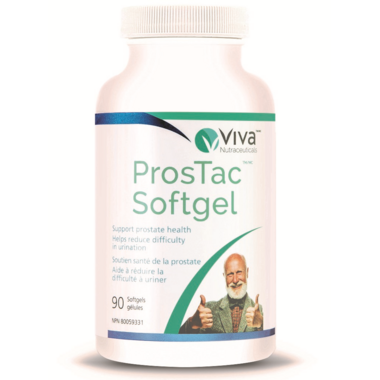 Viva Nutraceuticals ProsTac Prostate Health
- We're sorry, this product is no longer available!
- Shop for other products in: Prostate Supplements

ProsTac provides support for prostate health and helps reduce difficulty in urination. The formula contains pumpkin seed oil and saw palmetto, which have been proven by studies to be beneficial in prostate health. It also contains lycopene, dandelion, nettle, uva ursi, and zinc. Additionally, this product acts as a source of oleic acid and provides antioxidants for the body.
Features:
Supports prostate health
Helps reduce difficulty in urination
Decreases incidence of urinary tract infections
Protects against development of cancerous prostate cell lines
Recommended Dose:
For occasional use only. Take 1 softgel 3 times per day, with a meal. Do not take with highly acidic foods (such as citrus fruits and juice) or medications which may acidify urine. Take a few hours before or after taking any other medications or natural health products. Consult a health care practitioner for use beyond one week.
Medicinal Ingredients:
Pumpkin seed oil (Cucurbitapepo, Seed).....300 mg
Saw palmetto (Serenoarepens, Fruit)......80 mg
(90% fatty acids, 10 : 1, QCE 800 mg)
Lycopene (psi,psi-Carotene)......10 mg
Dandelion (Taraxacumofficinale, Root).....30 mg (4 : 1, QCE 120 mg)
Nettle (Urticadioica, Root)......50 mg (5 : 1, QCE 250 mg)
Uvaursi (Arctostaphylosuva-ursi, Leaf).....25 mg (4 : 1, QCE 100 mg)
Zinc (Zinc oxide)....7.88 mg