Wampole Adorable Probiotic Junior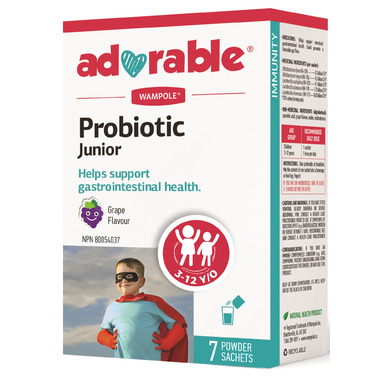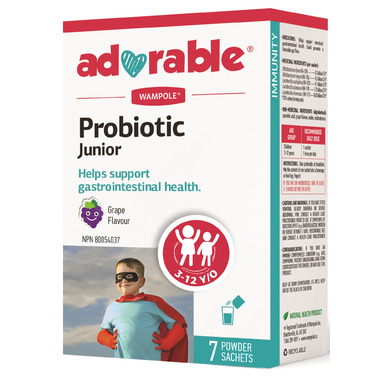 Wampole Adorable Probiotic Junior
Wampole Adorable Probiotic Junior helps support gastrointestinal health.
Directions:
Take preferably at breakfast. Mix the content of one sachet into a beverage or food (eg. Yogurt). IF YOU ARE ON ANTIBIOTIC(S), TAKE AT LEAST 2-3 HOURS BEFORE OR AFTER.
Medicinal Ingredients
(per sachet):
Bifidobacterium breve (HA-129) 0 .2 billion CFU*
Bifidobacterium longum (HA-135) 0.2 billion CFU*
Lactobacillus acidophilus(HA-122) 0.1 billion CFU*
Lactobacillus plantarum (HA-119) 1.37 billion CFU*
Lactobacillus rhamnosus(HA-111) 0.62 billion CFU*
*CFU: colony forming units
NON-MEDICINAL INGREDIENTS:
ascorbic acid, grape flavour, inulin, maltodextrin
Please be advised that Well.ca follows manufacturer guidelines for storing & shipping probiotics.