Webber Naturals Cold A-Tak Throat + Sinus Echinilin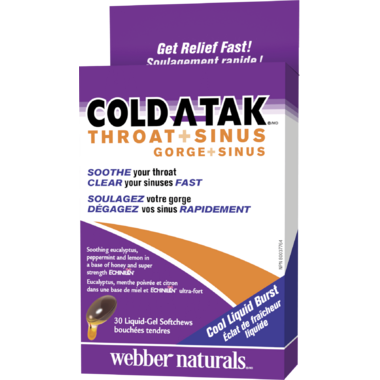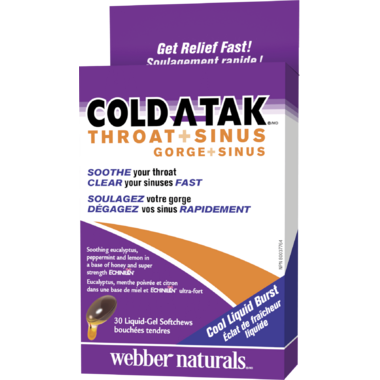 Webber Naturals Cold A-Tak Throat + Sinus Echinilin
Need fast-acting relief from stuffy nose, irritated throat, and sinus congestion? The natural herbals in Cold-A-Tak's Throat + Sinus softchew formula provide a cool liquid burst to instantly soothe cold or allergy symptoms. Clinically proven ECHINILIN boosts the body's ability to fight viral infections so you get better sooner.
Cool burst liquid softchew immediately soothes sore throats

Clears sinuses for fast-acting congestion relief

Contains patented ECHINILIN a standardized and clinically tested organic Echinacea purpurea extract shown to stimulate the immune system

Easily portable blister packs
Directions:

Recommended dosage (adults and adolescents 15 years old and over): At the first sign of infection, chew 6 softgels daily (allowing the softgel to break in the mouth and herbal liquid to coat the throat) or as directed by a physician. Consult a physician for use beyond 8 weeks.
Ingredients:

Each softchew contains: ECHINILINE chinacea Extract (Echinacea purpurea) (herb top and root) 85 mg

Directions:

Consult a physician if symptoms persist or worsen, if you are taking immunosuppressants or have a progressive systemic disease such as tuberculosis, leucosis, collagenosis or multiple sclerosis. Do not use if you are allergic to plants of the Asteraceae/Compositae (daisy) family. Hypersensitivity (e.g., allergy) has been known to occur, in which case discontinue use. Keep out of reach of children.
Free of artificial colours, preservatives or sweeteners; no dairy, starch, sugar, wheat, gluten, yeast, soy, corn, egg, fish, shellfish, salt, tree nuts or GMOs. Canadian Brand