Webber Naturals Daytime Stress Formula
featuring Rhodiola
90 Capsules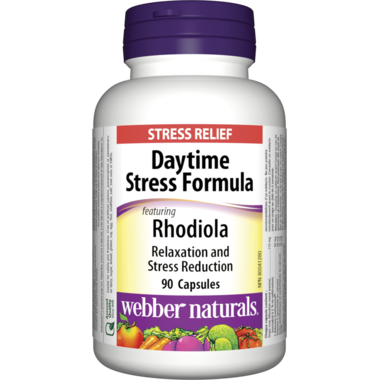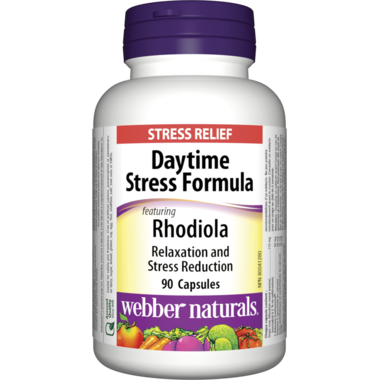 Webber Naturals Daytime Stress Formula
featuring Rhodiola
90 Capsules
Webber Naturals Daytime Stress Formula combines the powerful adaptogenic herb Rhodiola rosea with L-theanine, GABA, and pantothenic acid to help promote relaxation and restore emotional balance.
When life leaves you feeling frazzled this potent formula can calm anxiety, improve alertness, and boost your resistance to physical and psychological stress.

Features:
Formulated with L-theanine and GABA to promote relaxation and mental clarity
Provides rhodiola standardized to 3% salidrosides to alleviate anxiety and soothe stress
Improves mental and physical stamina, learning performance, memory, and attention
Promotes relaxation without drowsiness
Contains vitamin B5 (the "anti-stress" vitamin) to support healthy adrenal gland function
Supports good health through antioxidant protection
Medicinal ingredients
:

Each capsule contains:
Roseroot (Rhodiola rosea) (root) 112 mg (Standardized to 3% salidrosides)
Suntheanine® L-Theanine 50 mg
Vitamin C (calcium ascorbate) 50 mg
Pantothenic acid (calcium d-pantothenate) 25 mg
GABA 20 mg


Alyssa:
about a week ago
I have a severe social anxiety and this product makes it completely go away. I take 2 pills in the morning with light breakfast and its effect lasts pretty much the whole day. Now that I don't waste so much energy being anxious, nervous and sweating, I have much more brain energy to be more productive at school. (also reduces stress by calming your mood.) Honestly I want to take this until the day I die dead serious.
Page
1