Webber Naturals FemmeCalm Energy Formula
For Stress Related Adrenal Fatigue
90 Vegetarian Capsules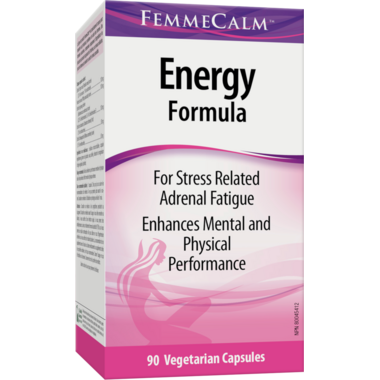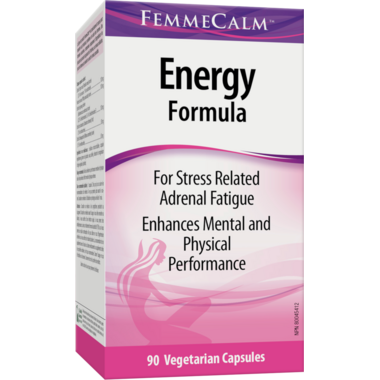 Webber Naturals FemmeCalm Energy Formula
For Stress Related Adrenal Fatigue
90 Vegetarian Capsules
Webber Naturals FemmeCalm Energy Formula helps strengthen the body's response to stress-related adrenal fatigue for enhanced mental and physical performance.

Containing restorative nutrients – rhodiola, suma, Siberian ginseng, schisandra, and ashwagandha – this formula also promotes restful sleep.

The FemmeCalm line of products is designed specifically to address the leading health concerns of women.
Features:

Boosts physical energy and reduces feelings of fatigue after periods of stress
Contains a balance of adaptogenic botanicals known to support healthy adrenal function
Helps calm the nervous system and promote uninterrupted sleep
Focuses on adrenal rejuvenation to improve energy levels as opposed to caffeine-rich botanicals
Supports a healthy immune system
Medicinal ingredients:

Each capsule contains:

Roseroot Extract (Rhodiola rosea) (root) (3.5% rosavin, 1% salidroside) 100 mg
Suma Powder (Pfaffia paniculata) (root) 100 mg
Siberian Ginseng Extract
(Eleutherococcus senticosus) (root) (0.25% eleutheroside B, 0.4% eleutheroside E) 100 mg
Schisandra Extract (Schisandra chinensis) (fruit) (2% schisandrins) 80 mg
Ashwagandha Extract (Withania somnifera) (root) (1.5% withanolides) 80 mg

Victoria:
a few months ago
This product really works for me. I have narcolepsy, and have essentially been diagnosed with adrenal fatigue by an osteopathic doctor. I only recommend this product if you know for a fact that you have adrenal-related fatigue. The symptoms I experience (when I am not taking these pills) are: difficulty in waking/getting up in the morning, obvious heart rate increase in the morning, feeling as if every task is physically exhausting, etc. Obviously there is a spectrum, and others w/o narcolepsy who have adrenal fatigue experience it differently than I do.
However, this product really helps-- after taking it consistently for a few days, I feel a lot better in the mornings. I take it first thing in the morning, on an empty stomach. I don't take it twice a day as the package recommends.
As for the smell--- it's not that significant, especially if you are used to multi-vitamins or herbal supplements. You're swallowing them anyhow, so I don't find it to be a big deal.
Eren:
more than a year ago
This product works, it gave me more energy and made me feel more alert. I was more tired at night instead of feeling restless. The only reason I'm knocking two stars off is because 1) I don't like the smell of this product and 2) I took this product only two times so far because it made me REALLY dizzy when I was at work. The other time I took it, I was at home for the majority of the day so it didn't bother me as much, but it was still uncomfortable feeling. It could be because I'm not used to taking ginseng, either way I'm not sure I'll buy this again.
Page
1