Webber Naturals FemmeCalm Thyroid Formula
Enhances Thyoid Health
100 Vegetarian Capsules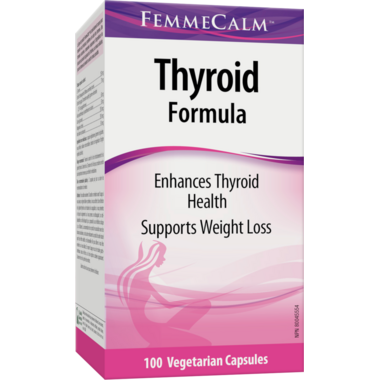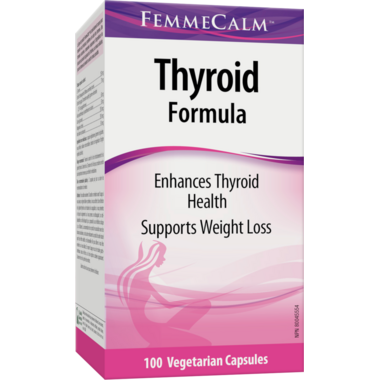 Webber Naturals FemmeCalm Thyroid Formula
Enhances Thyoid Health
100 Vegetarian Capsules
Webber Naturals FemmeCalm Thyroid Formula supports healthy thyroid function.

It delivers a concentrated dose of vitamins, minerals, and standardized botanical extracts known to help balance thyroid hormones and reduce susceptibility to hypothyroidism, thus promoting healthy metabolism.

The FemmeCalm line of products is designed specifically to address the leading health concerns of women.
Features:

Supports healthy thyroid function
Helps counteract the symptoms of hyper or hypothyroidism such as weight gain, thinning hair, and sensitivity to cold
Boosts energy levels, mental alertness, and clarity
Offers enough iodine to help prevent goiter
Medicinal ingredients:

Each capsule contains:

L-Tyrosine 250 mg
Ashwagandha Extract (Withania somnifera) (root) 75 mg
Guggul Extract (Commiphora wightii) (gum oleoresin) (2.5% guggulsterone) 60 mg
Pantothenic Acid (calcium d-pantothenate) 50 mg
Copper (gluconate) 250 mcg
Manganese (citrate) 250 mcg
Iodine (potassium iodide) 50 mcg