Zesty Tangerine
225g / 30 Servings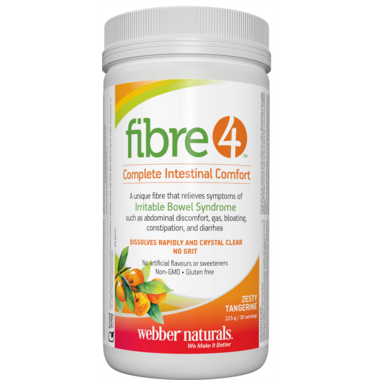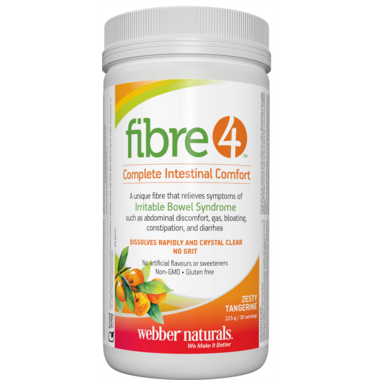 Webber Naturals Fibre 4
Zesty Tangerine
225g / 30 Servings



Fibre 4 is a unique soluble dietary fibre supplement that is clinically proven to improve bowel regularity, and relieve constipation and minor gastrointestinal discomfort in people with irritable bowel syndrome (IBS). The Zesty Tangerine flavoured powder dissolves fast and clear in your favourite beverages for convenient support of healthy gastrointestinal function.
Clinically proven source of soluble fibre that addresses symptoms of IBS
Improves intestinal regularity including constipation and diarrhea
Suitable for use by adults and children
Dissolves rapidly and crystal clear with no grit
Sweetened naturally with xylitol and stevia
Non-GMO, gluten free, and vegan friendly
Ingredients:
Each serving (7.5 g) contains:
Sunfiber® (partially hydrolyzed guar gum) 5 g
Caution:

Consult a physician prior to use if: 1) you have diabetes mellitus in which blood sugar is difficult to regulate, 2) you are taking medications which inhibit peristaltic movement (e.g., opioids, loperamide), 3) you have symptoms such as abdominal pain, nausea, vomiting or fever (as these could be signs of abdominal constipation, disease of the oesophagus or the superior opening of the stomach (cardia), paralysis of the intestine, megacolon, faecal impaction, inflamed bowel or appendicitis). Consult a physician if symptoms persist or worsen, or if laxative effect does not occur within seven days. Do not use if you are experiencing a sudden change in bowel habits that has persisted for more than 2 weeks, undiagnosed rectal bleeding, or failure to defecate following the use of another laxative product. Keep out of reach of children.
Free of artificial colours, preservatives, or sweeteners; no dairy, sugar, wheat, gluten, yeast, soy, egg, fish, shellfish, animal products, tree
nuts, or GMOs. Suitable for vegetarians/vegans. Canadian Brand