Webber Naturals Glucosamine Chondroitin Sulfate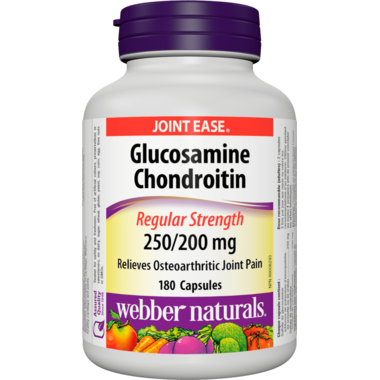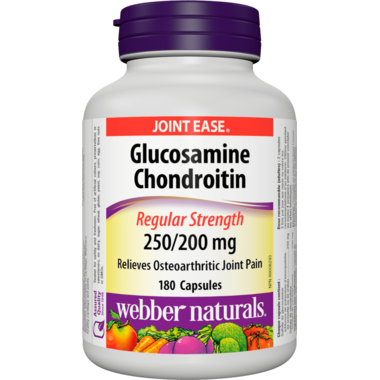 Webber Naturals Glucosamine Chondroitin Sulfate
Glucosamine helps stop cartilage deterioration while reducing or eliminating pain and improving joint function. Chondroitin supports joint lubrication. Glucosamine and chondroitin treat the underlying basis of osteoarthritis. An effective, natural solution for joint pain sufferers.

Helps slow the progression of osteoarthritis

Maintains structural integrity of joints and connective tissue

Reduces pain associated with osteoarthritis
Directions:

Recommended dosage (adults): 2 capsules 3 times daily with meals or as directed by a physician. Use for a minimum of 4 weeks to see beneficial effects.
Ingredients:

Each Capsule Contains: Glucosamine Sulfate (Potassium chloride from shrimp/crab exoskeleton) 250 mg Chondroitin Sulfate (Sodium from bovine cartilage) 200 mg Consult a physician prior to use if you are pregnant or breastfeeding.

Caution:

Consult a physician if symptoms worsen. Keep out of reach of children.
Free of artificial colours, preservatives or sweeteners; no dairy, sugar, wheat, gluten, yeast, soy, corn, egg, tree nuts or GMOs. Canadian Brand
Dosage: 250 mg / 200 mg