Webber Naturals Natural Migraine Formula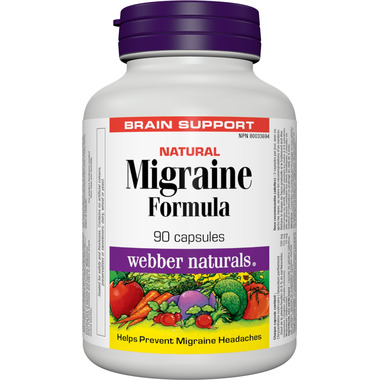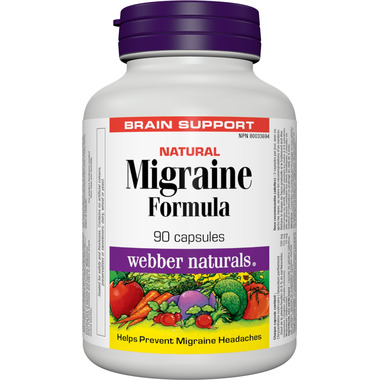 Webber Naturals Natural Migraine Formula
- We're sorry, this product is no longer available!
- Shop for other products in: Headache & Migraine

Many health factors can give rise to migraine headaches, and nutritional supplements can help to address some of the root causes. For centuries, the leaves of the herb feverfew (Tanacetum parthenium) have been used in traditional medicine to treat headaches. Scientific studies show feverfew effectively reduces the frequency and severity of migraine attacks by inhibiting inflammation and restoring the muscle tone of blood vessels. Researchers have found that magnesium deficiency is common in people who suffer from migraines, and that supplementation can bring relief. Ginger (Zingiber officinale) root has also been used in clinical practice because it reduces inflammation and platelet aggregation, factors linked to migraine.

Rather than just masking the symptoms, Webber Naturals Natural Migraine Formula provides nutritional support to help prevent migraine headaches. The feverfew is standardized to contain 0.8% of the active compound parthenolide, ensuring a consistent and effective dose. Webber Naturals Natural Migraine Formula also provides a gentle, easily absorbed form of magnesium because low magnesium status is linked with migraines. Take Webber Naturals Natural Migraine Formula every day to reduce the frequency and severity of migraines.

Ingredients:
Feverfew.....100 mg
Ginger ..... 150 mg
Magnesium.... 50 mg

Non-Medicinal Ingredients: Gelatin capsule (gelatin, purified water), vegetable grade magnesium stearate (lubricant), microcrystalline cellulose, silica.

Directions (Adults): 2 capsules daily with or after meals, or as directed by a physician. Reduce the dose gradually if treatment is to be paused or discontinued. Use for a minimum of 4-6 weeks to see beneficial effects. Consult a physician for use beyond 4 months.

Cautions: Consult a physician prior to use if you are breast-feeding or taking blood thinners. Consult a physician if symptoms persist or worsen. Do not use if you are allergic to plants of the Asteracea/Compositae/Daisy family or if you are pregnant. Hypersensitivity, such as allergy, has been known to occur, in which case discontinue use. Some people may experience sore mouth, mouth ulcers and/or gastrointestinal discomfort. Keep out of reach of children.