Webber Naturals Omega-3 SuperVision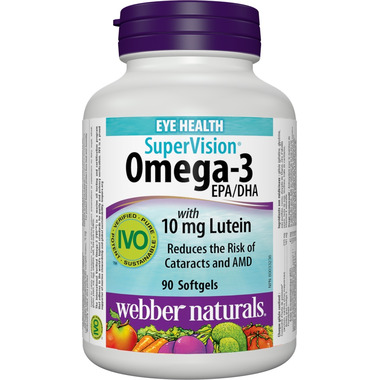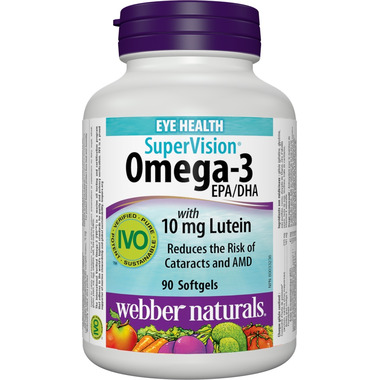 Webber Naturals Omega-3 SuperVision
Webber Naturals Omega-3 SuperVision contains a unique formula of natural compounds known to benefit the eyes. With Omega-3 (DHA) and Lutein, this unique formula also includes Bilberry extract, as well as Anthocyanidins, Rutin, and Quercetin, bioflavonoids associated with improved blood flow to the retina, for better circulation and lutein delivery. Antioxidants protect the fine capillaries of the retina.

Ingredients (alphabetical)
Medicinal: Fish Oil (anchovy, sardine, and/or mackeral) from MEG-3 brand, Eyebright (Euphrasia officinalis) (herb) 4:1 extract, Bilberry (Vaccinium myrtillus) (fruit) 5:1 extract, Carrot (Daucus carota) (root) juice powder, Quercetin, Rutin (Sophora japonica) (buds), Fruit Blend (Cranberry: Vaccinium macrocarpon, Blueberry: Vaccinium corymbosum, Bilberry: Vaccinium myrtillus, Cherry: Prunus avium), lutein from FloraGlo lutein.

Non-medicinal: Softgel capsule (gelatin, glycerin, purified water, annatto, titanium dioxide), yellow beeswax, safflower oil, soybean oil, lecithin, tocopherols.

Recommended Amount:
1 softgel, 2 times daily preferably with meals or as directed by a physician. This product is taken with a meal containing fat/oil since the lutein component is strictly fat-soluble.

Sarah:
more than a year ago
These capsules are unique in that they offer a combination of nutrients all in one package, and comparatively the price is also great. The drawback is that these capsules have an extremely unpleasant fishy odour. I thought perhaps a capsule had burst in the first bottle I purchased, since the smell was so strong, but I had the same issue with the second bottle. Unfortunately the fishy odour makes them unpleasant to take.
Page
1