Webber Naturals Saw Palmetto, 160 mg
BONUS! 50% More
60+30 softgels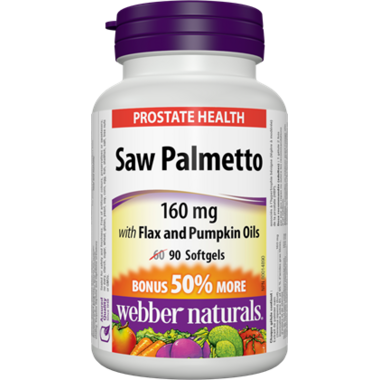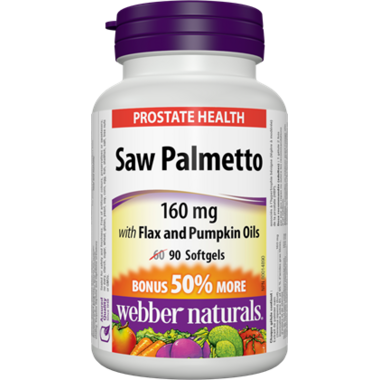 Webber Naturals Saw Palmetto, 160 mg
BONUS! 50% More
60+30 softgels
Almost all men over 50 will experience some degree of prostate enlargement. Saw palmetto from webber naturals, containing 85–95% fatty acids standardized extract in a base of pumpkin seed oil and flaxseed oil, is a valuable natural way to prevent or improve symptoms of an enlarged prostate.
Benefits
:
Standardized extract containing 85–95% fatty acids
In a base of pumpkin seed and flaxseed oil for additional prostate benefits
Alleviates the symptoms of an enlarged prostate
Free of artificial colours, preservatives or sweeteners;
no dairy, starch, sugar, wheat, gluten, yeast, soy, corn, egg, fish, shellfish, salt, tree nuts or GMOs. Canadian brand
Directions:
Recommended dosage (adults): 1 softgel 2 times daily with meals or as directed by a physician.
Ingredients:
Each softgel contains:
Saw Palmetto Extract (Serenoa repens) (fruit) 160 mg (standardized to contain 85-95% free fatty acids, esters and sterols) Flaxseed Oil (Linum usitatissimum) (seed) 160 mg Pumpkin Oil (Cucurbita pepo) (seed) 120 mg
Cautions:
Consult a physician prior to use to exclude a diagnosis of prostate cancer. Consult a physician if symptoms persist or worsen. Keep out of reach of children.