Webber Naturals Treehouse Tooth-Friendly Chewable Vitamin C 250 mg
Tropical Fruit Flavour
100 Chewable Tablets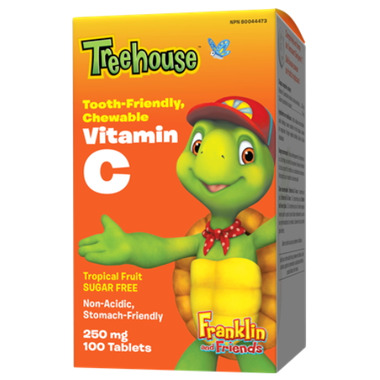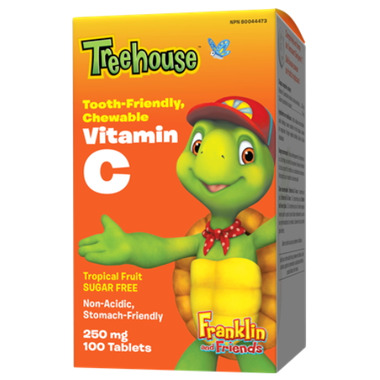 Webber Naturals Treehouse Tooth-Friendly Chewable Vitamin C 250 mg
Tropical Fruit Flavour
100 Chewable Tablets
Growing young bodies need vitamin C. It helps the body absorb calcium and iron, and is essential for development of healthy bones, teeth, gums, cartilage, and blood vessels. Vitamin C helps heal cuts and scrapes, and strengthens the immune system, reducing the risk, severity, and duration of infectious diseases. Vitamin C is also a primary antioxidant that protects cells against oxidative damage and excessive inflammation, and helps reactivate depleted vitamin E.
Treehouse Chewable Vitamin C is the calcium ascorbate form of vitamin C. It contains calcium for building strong bones and teeth and to support normal nerve and muscle function. It also helps blood to clot, and activates enzymes that convert food into energy.
This chewable C is non-acidic, so it's gentle on little teeth and tummies. It's sweetened with xylitol, a natural sweetener proven to actually fight dental cavities by inhibiting the growth of decay-causing bacteria and preventing formation of plaque. Your children will enjoy the delicious, natural tropical fruit flavour. Great for kids 4–8 years old.
Features:
Tooth-friendly, helps fight cavities!
Non-acid , stomach-friendly chewable vitamin
Mild-tasting, natural tropical fruit flavour that kids enjoy
Free from artificial flavours, colours, preservatives, and aspartame
Medicinal Ingredients:
Each Tablet Contains:
Vitamin C (calcium ascorbate, ascorbic acid) 250 mg
Calcium (calcium ascorbate) 15 mg
Non-Medicinal Ingredients
: Xylitol, microcrystalline cellulose, stearic acid, natural tropical fruit flavour, vegetable grade magnesium stearate (lubricant), Stevia rebaudiana leaf.