Webber Naturals Triple Strength Omega-3 Plus Vitamin D
900mg/1000 IU (EPA DHA)
50+15 clear enteric softgels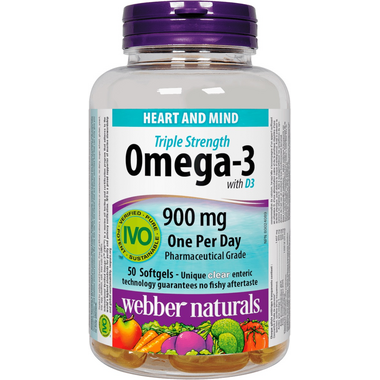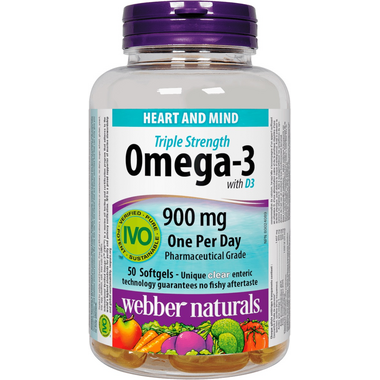 Webber Naturals Triple Strength Omega-3 Plus Vitamin D
900mg/1000 IU (EPA DHA)
50+15 clear enteric softgels
Support heart and mind with webber naturals Triple Strength Omega-3 with D3. This ultra-purified fish oil provides 600 mg of EPA and 300 mg of DHA in the ideal 2:1 ratio to promote cardiovascular health and cognitive function. Vitamin D in the highly bioavailable cholecalciferol form also encourages healthy bones and eyes.
Convenient, one-per-day formula to support cardiovascular health and brain function

Reduces serum triglycerides/triacylglycerol

Provides 1000 IU of vitamin D per softgel Omega-3 fish oil is IVO-verified for purity, potency, and sustainability

Clear enteric softgel technology guarantees no fishy aftertaste
Directions:

Recommended dosage (adults): 1 clear enteric softgel daily oras directed by a physician. Dry eye relief: Use for a minimum of1 month to see beneficial effects.
Ingredients:

Each clear enteric softgel contains: Fish Oil Concentrate* (anchovy, sardine, and/or mackerel) 1407 mg Omega-3 Fatty Acids 900 mg Eicosapentaenoic Acid (EPA) 600 mg Docosahexaenoic Acid (DHA) 300 mg Vitamin D3 (cholecalciferol) 1000 IU (25 mcg) *Molecularly distilled, ultra purified.

Directions:

Keep out of reach of children. Dry eye relief: Consult a physician if symptoms of dry eyes worsen.
Free of artificial colours, preservatives, or sweeteners; no dairy, sugar, wheat, gluten, yeast, egg, shellfish, salt, tree nuts, or GMOs. Canadian Brand