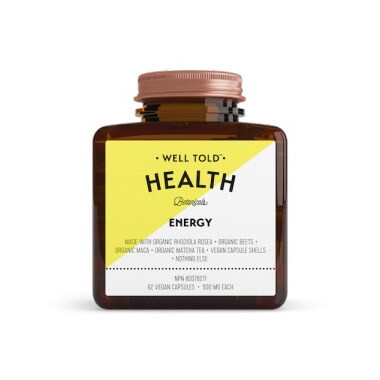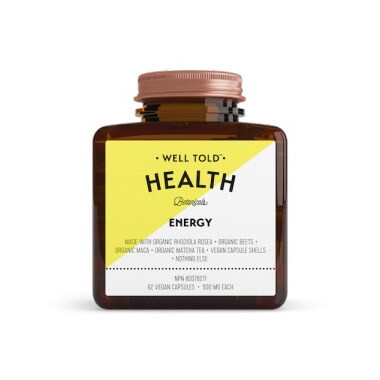 Clean energy and no jitters. This product is an adaptogen that increases energy, supports mental focus and stamina and enables your body to adapt to exertion.
Features:
Why Take It? If you live with ongoing stress that can cause mental fatigue, have a job that requires optimal cognitive function, are studying for exams, have sensations of weakness, work out intensely or to enable your body to adapt to exertion.
Organic beets - Shown to improve muscle efficiency and endurance. Beets organic maca. An energy-enhancing root vegetable. Maca
Organic matcha tea - Finely grounded tea leaves known to increase energy. Matcha Tea organic rhodiola rosea
Well Told Health capsule shells are 100% vegan, made with either tapioca or cellulose derived from pine trees.
Dosage: Take 1 capsule twice daily.

Ingredients:
Organic Beets, Organic Maca, Organic Matcha Tea, Organic Rhodiola Rosea.