Wholesome Sweeteners Fair Trade Organic Molasses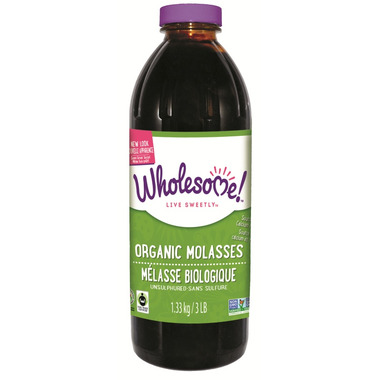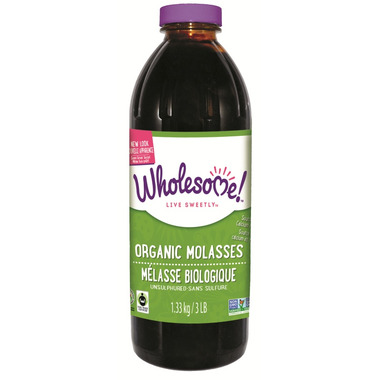 Wholesome Sweeteners Fair Trade Organic Molasses
Wholesome Sweeteners Fair Trade Certified Organic Molasses is a blackstrap molasses with a rich, full-bodied robust flavor that adds natural color and opulent caramel molasses tones to recipes. It is especially good in molasses cookies, in other baked goods, breads, sauces, BBQ sauces and in marinades. It can be used as a one-for-one replacement for refined blackstrap molasses.
Wholesome's Organic Molasses is actually the end product, or by-product, of the production of our Organic Sugar. It is loaded with vitamins, minerals and trace elements naturally present in the sugar cane plant and is a good source of iron, vitamin B6, potassium, calcium and magnesium.The Fair Trade Certified logo is Wholesome's guarantee that our farmers' cooperatives are paid directly for the cane grown and milled. This means that the farmers can compete with factory farms, cultivate the quality of their crops, send their kids to school and build thriving communities.
NUTRITIONAL FACTS:
Serving Size: measure: 1 Tablespoon (22g)
Servings per package: 32
Calories per serving: 60
Calories from fat: 0
Total fat (g): 0
Saturated fat (g): 0
Cholesterol (mg): 0
Sodium (mg): 0
Potassium: 730mg
Calcium: 115mg
Total carbohydrate (g):14g
Dietary fiber (g): 0
Sugars (g): 10g
Proteins (g): 0
Iron: 15% RDV
Vitamin B6: 10% RDV
Magnesium: 8% RDV
Ingredients: Organic Molasses
Product of Paraguay.
Certified Organic by Quality Assurance International