Wood's Body Goods Goods to Go Kit
3 great products in a biodegradable box
80g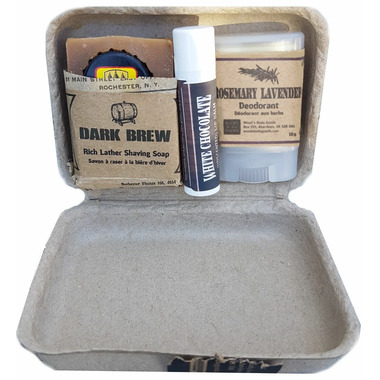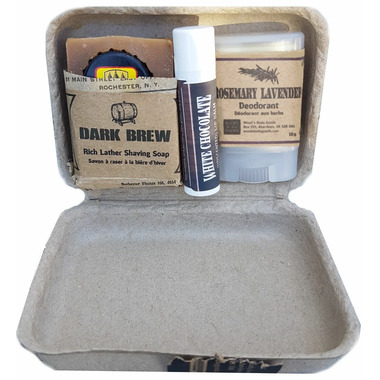 Wood's Body Goods Goods to Go Kit
3 great products in a biodegradable box
80g
- Max: 1
- We're sorry, this product is no longer available!
- Shop for other products in: Stick Deodorant

It's the local eco-box, containing the Wood's Body Goods handcrafted Dark Brew Mini Beer soap, Rosemary Lavender Mini Deodorant, and White Chocolate (Unscented) Lip Balm.
Great for travel, this handy deck-of-cards sized product has everything you need for overnight and fits right in your purse or backpack. Easy on the environment, the box is biodegradable.
Ingredients
:
Beer Soap: Coconut Oil, Palm Oil, Olive Oil, Shea Butter, Beer, Lye
Rosemary Lavender Deoderant: Coconut oil, beeswax, cocoa butter, shea butter, arrowroot powder, baking soda, rosemary essential oil, lavender essential oil, tea tree essential oil
Lip Balm: Coconut Oil, Beeswax, Cocoa Butter, Shea Butter, Olive Oil, Grapeseed Oil, Soy Bean Oil, Coffee Essential Oil, and may contain aroma.