zazubean Flirt Dark Organic Chocolate Bar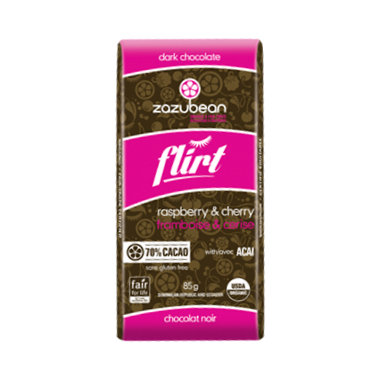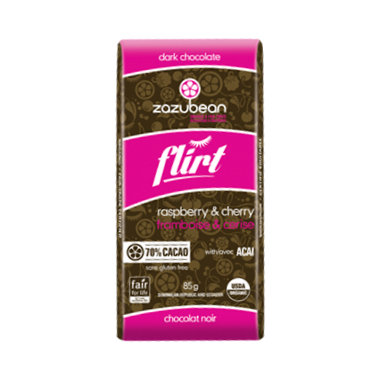 zazubean Flirt Dark Organic Chocolate Bar
If you wanna flirt, be bold and be sexy with this 70% dark chocolate that's bursting with Raspberry, Cherry and superfruit Acai.
Key organic Ingredients:
Raspberries & Sour Cherries are loaded with vitamins, antioxidants and fibre.
Superfruit Acai berry (pronounced ah-sigh-ee) is grown in the Amazon rainforest and is one of nature's most nutritious fruits. It is packed with antioxidants and ranks higher than blueberries, pomegranate and goji berries. Plus, it's full of vitamins, minerals and omega essential fatty acids.
Ingredients: Cocoa mass**, Cane sugar**, Cocoa butter**, Raspberries*, Acai*, Cherries*, Vanilla**. **Fair Trade Certified AND Certified Organic. *Certified Organic.
May contain traces of milk, nuts and peanuts.