Zoe Ayla Neck & Decollete Cream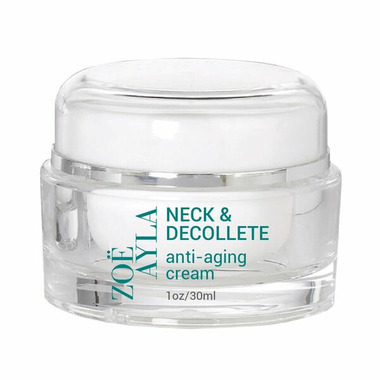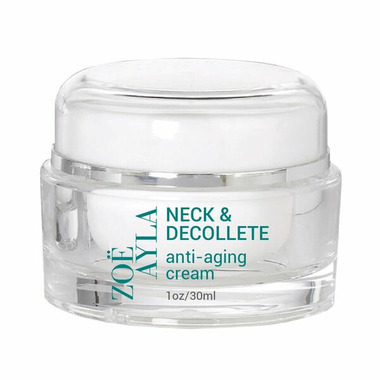 Zoe Ayla Neck & Decollete Cream
- We're sorry, this product is no longer available!
- Shop for other products in: Facial Moisturizers

YOU'RE ONLY AS YOUNG AS YOUR NECK! Lift and rejuvenate with Zoë Ayla's revolutionary Neck and Décolleté Cream. Your skin will feel an immense relief when this delivers a swell of daily moisture with its added gentle ingredients. This light, non-greasy formula is designed to absorb quickly and easily, making it perfect for mornings, afternoons, or evenings.
Zoë Ayla's innovative Health & Beauty products are manufactured in top of the line facilities in the USA and consist of the highest quality ingredients available on the market.

FORMULATED TO HELP IMPROVE WRINKLES AS IT SUPPORTS THE SKIN'S NATURAL COLLAGEN AND ELASTICITY. ITS SILKY TEXTURE MELTS INTO SKIN SMOOTHLY AND EVENLY, WITHOUT TUGGING OR PULLING YOUR DELICATE NECK & DÉCOLLETÉ AREA.

• Improves the appearance of FINE LINES AND WRINKLES.
• LIFTS AND REJUVENATES Neck & Décolleté.
• FIRMS & SCULPTS to bring back youthful appearance.
• Improves the appearance of FINE LINES AND WRINKLES.
• Support skin's natural COLLAGEN AND ELASTIN PRODUCTION.
• MADE IN USA
Clinically Supported Ingredients:
Hydrolyzed Marine Collagen, Iris Padilla Leaf Cell Extract, Nymphaea Cerulean Leaf Cell Extract.

Directions: Apply on your neck & Décolleté after cleansing and toning. Apply sunscreen if stepping out in the sun.

Ingredients: Purified Water, Acetyl Hexapeptide-8, Glycerin, Propanediol (and) Acmella Olaracea, Butylene Glycol, Para dium Liquidium, Simmondisia Chinesis (Jojoba) Seed Oil, Stearic Acid, Cetyl Alcohol, Glyceryl Stearate, Peg 100, Dimeticone, Caprylic/Capric Triglyceride, Dimethyl Methoxy Chromanol Palmiatate, Peg-16 Macademia Glycerides, Octyldocenol, Propylene Glycol, Zea Mays (Corn)Oil, Tocopheryl Acetate, Cholecalciferol, Retinyl Palmiatate, Ascorbic Acid, Pyridoxine HCI, Silicate, Sodium Propoxyhydroxipropyl Thiosulfate, Silica, Polisorbate 20, Phenoxyethanol, Caprylyl Glycol, Potassium Sorbate, Hexylene Glycol.