Zuke's Power Bones Chicken Formula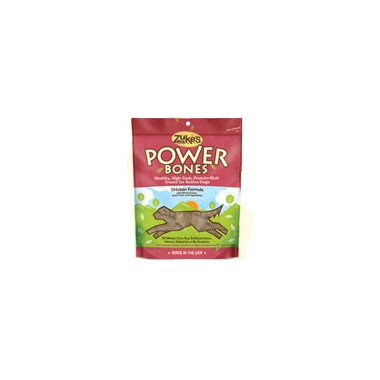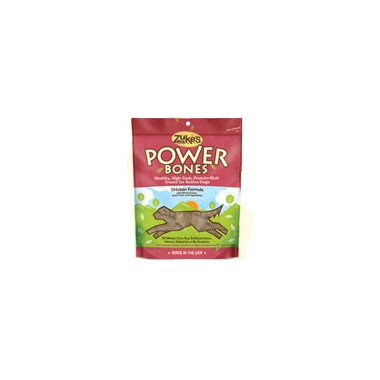 Zuke's Power Bones Chicken Formula
Natural Treats for Active Dogs
Power Bones are like an energy bar for people, but for dogs
Designed for dogs who need a power boost during strenuous activity
The perfect dog treat for use during dog agility, canine flyball or while running, hiking or swimming with your dog
Calories per piece (approx.): Beef 15, Chicken 18, Peanut Butter 22
Simple and complex carbs for quick and sustained energy
Fortified with vitamins and minerals
Now formulated with:
Whole, fresh blueberries – natural antioxidant
Whole, fresh carrots – Vitamin A for healthy eyes
Whole, fresh apples – promotes a healthy immune system
Ground flaxseed – Omega-3 fatty acids
Whole grains – dietary fiber, protein, vitamins and minerals
Made in the USA with USA sourced meats, grains, fruits and vegetables
Healthy, Natural dog treat
Free of wheat, corn and soy
Made without artificial colors, flavors or by-products

Feeding Instructions:
Feed your dog Power Bones before, during, or after periods of increased activity and exercise.
For periods of very strenuous activity we recommend frequent feeding of Power Bones to help keep energy levels high.
Ingredients
:
Chicken, Ground Oats, Malted Barley, Ground Rice, Maple Syrup, Gelatin, Vegetable Glycerin, Fresh Apples, Fresh Beets, Fresh Carrots, Fresh Sweet Potatoes, Ground Flax Seed, Canola Oil, Phosphoric Acid (a natural acidifier), Salt, Garlic Powder, Brewers Yeast, Natural Flavors, Sorbic Acid (a preservative), Mixed Tocopherols.

Guaranteed Analysis – Chicken
Protein not less than 10%
Fat not less than 7%
Fiber not more than 3%
Moisture not more than 30%
Calories Approximately 18 per piece