Genuine Health Greens+ Daily Detox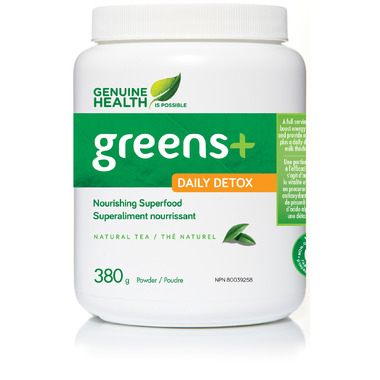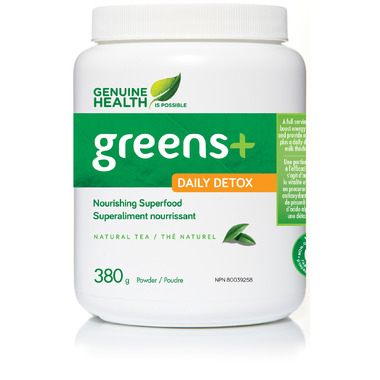 Genuine Health Greens+ Daily Detox
Every day we are exposed to toxins that over time can cause a variety of health problems. To help your body eliminate stored toxins and prevent further build-up, choose greens+ daily detox. greens+ daily detox contains a full serving of
greens+
, PLUS all-natural cleansing ingredients that help to support and cleanse the liver, skin, kidneys and GI tract, giving you noticeable health benefits, including improved skin, mood and mental clarity– naturally.
Benefits:
Superfoods
Performance
Cardiovascular Health
Mood & Cognitive Function
Digestive Health
Energy & Vitality
pH Acid/Alkaline
greens+ daily detox contains the same cleansing and energizing ingredients from greens+, PLUS an all-natural detox formula that specifically help to support and cleanse the liver, skin, kidneys and GI tract, giving you noticeable health benefits, including:
Improved energy and digestion
Improved mental clarity and focus
Improved bowel function and sleep
Improved appearance of skin, hair and nails
Unlike other detoxification treatments, which can leave you feeling drained, you will also experience increased energy and vitality – thanks to the inclusion of research-proven greens+. Take greens+ daily detox daily to protect and cleanse your body while increasing your energy and vitality – naturally.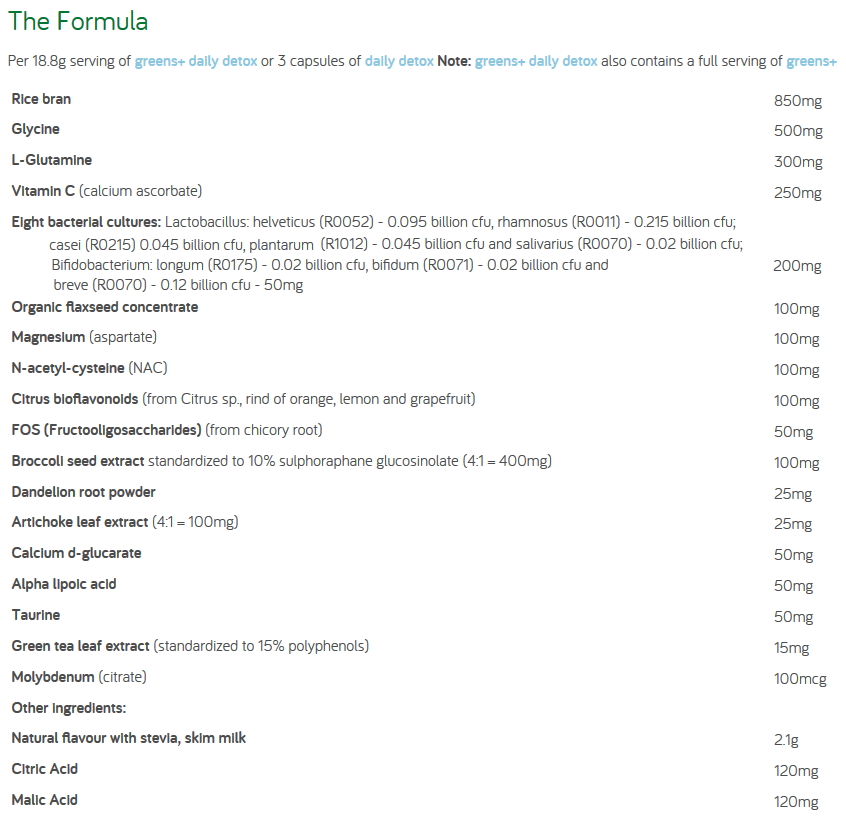 Recommended Dosage:
To increase energy and vitality while cleansing and purifying your body, mix 1 scoop (13.8g) of greens+ daily detox to one and a half cups (375mL) of pure water. Shake well. If you are a new user of greens+, begin with 1/3 scoop daily and gradually increase to a full scoop daily over a 3 week period. Take with food and a few hours before or after taking other medications.
Caution:
Use with caution if allergic to bee products. Not to be taken by children, during pregnancy, while breastfeeding, by those on medication or following a low protein diet, or by those with chronic health problems unless under the recommendation of a health care practitioner. Do not use if you have gastrointestinal or bile duct blockage, gall stones or an iron deficiency. Discontinue use and consult a health care practitioner if symptoms of digestive upset occur, worsen or persist beyond 3 days. Use with caution if allergic to bee products, or to plants of the Asteracae/Compositae/daisy family. Do not take within two (2) hours of another medicine. Keep out of reach of children.
Note:
greens+ daily detox contains no artificial colours, flavours, sweeteners, egg or yeast. Keep greens+ daily detox refrigerated after opening. greens+ daily detox is non-irradiated.

Heather:
more than a year ago
When I take this stuff daily, it makes a BIG difference in my body. The biggest thing I notice is my skin - I usually have minor acne and little bumps on my face and forehead - after about 3 solid weeks of this Greens+, my skin is almost unrecognizable as my own! Totally smooth, no breakouts - for my sensitive and irritated skin, that's incredible! This stuff also really gets your colon cleared out, makes you very regular (but not TOO much). It's expensive, but definitely worth the price, and this one big jar lasts quite a while. I think if I had to only keep one health food/supplement, this product would be it. I mix a scoop into a smoothie in the morning with probiotic plain greek yogurt, berries, and a bit of unsweetened juice. You don't even taste the tea flavour once it's mixed with berries! On its own it's a bit of a dull taste - I find I'm more apt to take it every day in smoothie form. Definitely recommend!!
Page
1