Aura Cacia
Aura Cacia Mandarin Orange Essential Oil
100% Pure Essential Oil 15 mL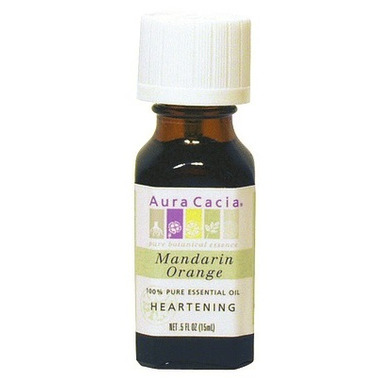 Aura Cacia
Aura Cacia Mandarin Orange Essential Oil
100% Pure Essential Oil
15 mL
---
Description
Grown for over 3000 years in China, Mandarin provides a fruity citrus oil possessing a neroli-like floral nuance. Mandarin calms the spirit and balances emotions. Carry a bottle and inhale for emotional rescue.
Botanical Name: Citrus reticulata 
Ingredients: Citrus reticulata (mandarin) oil
Product Notes:

Color: Orange-brown, yellowish brown or olive-brown
Viscosity: Mobile
Top Note: Intensely sweet, aldehydic, sometimes 'fishy' citrus
Middle Note: Sweet, floral, (neroli like) citrus
Dry Note: Lingering floral-citrus sweetness
Aromatherapy Actions: Uplifting, refreshing, cheering
Safety Data: Non-toxic, non-irritant, non-sensitizing. Avoid use in sun.
Highlights