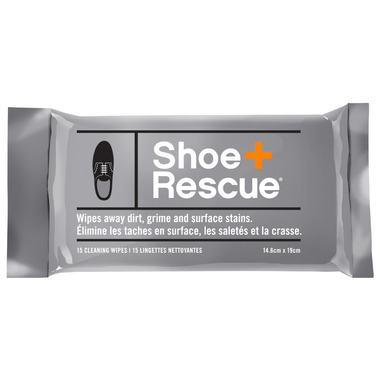 Description
Keep your Shoes Beautiful with ShoeRescue Cleaning Wipes.  Remove dirt, grime and surface stains from your beloved footwear.  The all-natural formula gently cleans shoes and keeps them looking their best.  You can use them on anything – leather, fabric and even the most delicate of suede.  Chemical free and won't damage delicate fabrics or cause harm to you. The best part is you don't have to search for a sink to clean your hands when you're on the go. With ShoeRescue you get a mess-free clean. Always.
Features:
KEEP YOUR SHOES LOOKING THEIR BEST – Wipes away dirt, mud and surface stains to keep shoes looking like new.
ALL-NATURAL FORMULA – Cleans without any harsh chemicals that can harm fabric or skin. No need to wash hands after using.
PORTABLE & EASY TO USE –  Comes in a handy, re-sealable pack containing 15 disposable wipes. Keep them in your purse, briefcase, office, car or home. A perfect travel wipe.
KEEP FOR YOU OR GIVE AS A GIFT – Makes for a unique gift or stocking stuffer for shoe lovers.
MULTIPURPOSE CLEANING WIPE – Works great as a leather cleaner, to clean suede shoes and boots or for rubber and fabric. Restore your favorite leather shoes, jackets, bags, car seats and more.
Highlights