Dapple
Dapple HE Baby Fragrance Free Laundry Detergent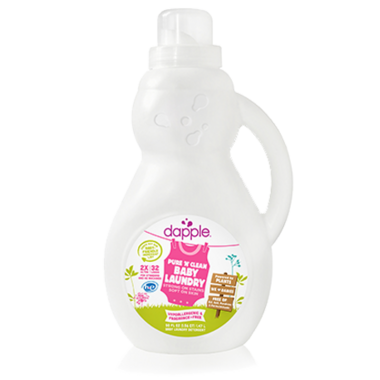 Dapple
Dapple HE Baby Fragrance Free Laundry Detergent
Description
Dapple HE Baby Fragrance Free Laundry Detergent is perfect for washing your little one's clothes in!

Features:
Safe, natural detergent that really hits the spot.
Made with ultra-mild ingredients
An effective & safer alternative to conventional baby laundry detergent
Perfect for newborns, toddlers and kids with eczema
Enhanced formula specifically for use on cloth diapers
Works wonders on spit-up stains, too!
Ingredients: Water, citric acid, tetrasodium iminodisuccinate (natural complexing agent), sodium citrate (natural water softener derived from citric acid), glycerin (natural emollient), coconut fatty acid (natural cleaner derived from coconut), sodium lauroamphoacetate (natural cleaner derived from tree oils and glucose), lauryl glucoside (natural cleaner derived from glucose), protease & amylase (natural enzymes to enhance cleaning power), cellulose (natural derived thickening agent), benzisothiazolinone (preservative).

Highlights