Rainbow High
Rainbow High Rainbow Vision Shadow High Harley Limestone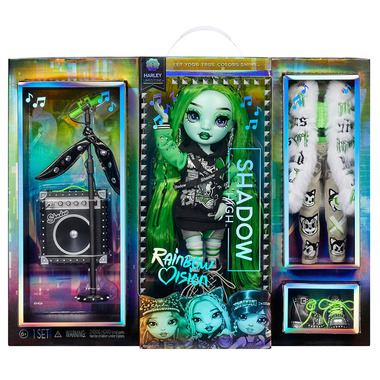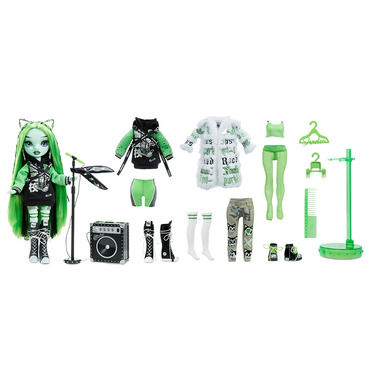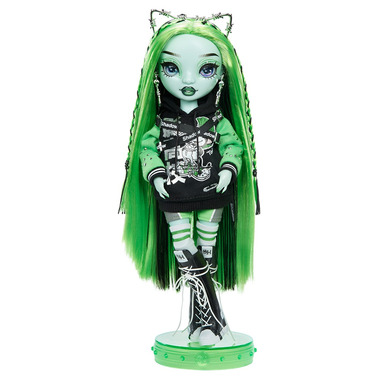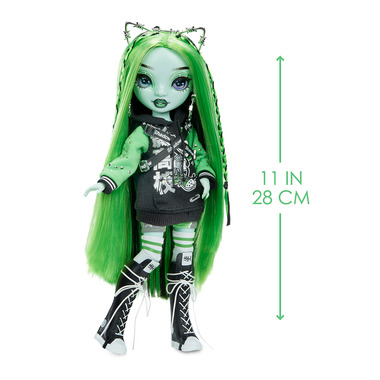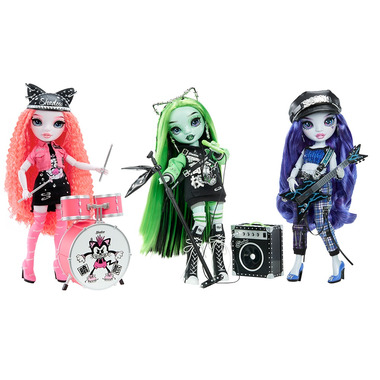 Rainbow High
Rainbow High Rainbow Vision Shadow High Harley Limestone
Description
All the best art schools will feature bands to compete in the world-famous Rainbow Vision music battle. The competition is heating up, and the rocking girls of Neon Shadow have their eyes on the prize. Each playset comes with a fashion doll, 2 designer outfits for mix & match and rockband instruments so every child can join the fun.

Harley Limestone's bark is just as bad as her bite. She isn't afraid to get in the face of anyone who comes for her, her friends or their music. She's definitely writing about you in her next song – by name. This is a girl who requires 100% loyalty at all times. Born and raised in Las Vegas, Nevada, Harely spent a lot of her childhood walking up and down the strip, and she got inspiration from the in-your-face realness of the city. She knows being a singer-songwriter is the number 1 way to stardom, and she always makes sure people know her voice. Harely takes the band very seriously, and when Mara is pulling one of her pranks, it can turn into a screaming match (and some great music). The upside is their fighting is the more problems they have, the better their music is. Harely knows Uma wants to move to LA when they're done at Shadow High, and she's not super against it, she's just worried the girls will be upset that she gets discovered and asked to go solo.
Features
GORGEOUS FEATURES: Harley has a unique design and is dressed in neon green and black from head to toe. She has gorgeous, detailed features in her fashion, beautiful straight green hair with two thin braids, muted skin tone with neon green accents, long real eye lashes and glass eyes. Collect the Rainbow of all the Rainbow Vision- Neon Shadow fashion dolls.
2 MIX & MATCH FASHION: Harley comes dressed in graphic terry sweater, color-block biker shorts with graphic prints on the side, high top sneakers with lacing details, and cat ears headband. She also comes with a second complete outfit for mix and match fun. Faux fur jacket with shadow embroidery details, neon green sequins top, denim with printed graphics and embroidery designs, and combat boots with studs.
POSE HER ON DOLL STAND: She's fully articulated and posable, her arms and legs bend for so many glamourous poses or you can display her on the included doll stand.
WHAT'S INCLUDED: Fashion doll, two complete doll outfit, two pairs of doll shoes, doll accessories, rocker mic+stand+amp set, and doll stand.
PRO TIP - WASH HAIR TO REMOVE STYLING GEL: When first unboxing the doll, you can wash her hair thoroughly to remove styling gel and let hair dry completely. Then, her hair is ready to brush.
FAVORITE COLLECTION: Collect all 3 Rainbow Vision- Neon Shadow Fashion Dolls: Mara Pinkett, Uma Van Hoose, Harley Limestone. Visit the Rainbow High Store to shop the amazing Shadow High and Rainbow High collections. #LETYOURTRUECOLORSSHINE. All fashion dolls sold separately.