Lumiere de Sel
Lumiere de Sel Natural Shape Himalayan Crystal Salt Lamp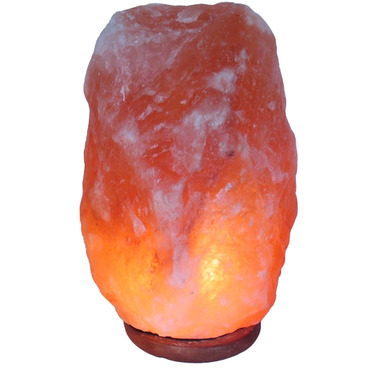 Lumiere de Sel
Lumiere de Sel Natural Shape Himalayan Crystal Salt Lamp
Description
This Salt Crystal Lamp is handcrafted, mounted on a wooden base, and includes an electrical cord and bulb. It is made of salt crystal that is ethically harvested from the geological range of the Himalayan Mountains, where salt deposits were formed millions of years ago. Due to its natural formation, each lamp is a uniquely beautiful combination of pink, orange and white – no two are the same!
This lamp naturally produces negative ions, which help clean and purify the air. Ions are small electrically charged particles contained in the air we breathe. Other natural ion producers are trees and waterfalls. These lamps are helpful for people suffering from asthma and/or upper respiratory problems by reducing the amount of airborne bacteria and dust.
Features & Benefits:
Helps clean and purify the air
Reduces electro-magnetic pollution
Known to improve mood and concentration
Helpful for asthma and upper respiratory problems
Has a soothing and calming effect
Helps alleviate feelings of depression
Reduces fatigue
Assists with natural healing processes
Measures approximately:

6.5" Dia / 7" - 9" Ht
Ionization Effects:
2.0 – 3.5 kg: Affects area 0.5-1.5 meter in diameter
3.5 – 6.0 kg: Affects area 1.5-2.0 meter in diameter
6.0 – 9.5 kg: Affects area 2.0-2.5 meter in diameter
Usage & Care:
Salt Crystal Lamps should not be used in rooms with excessive humidity, or outdoors. If exposed to dampness, leave the lamp lit for several hours to emit the surface humidity, and then remove any powdery material with a dry cloth. If the lamp does show signs of dampness, turn on the lamp or light the candle to dry them out. Ensure first that any electrical parts are dry before using the lamp. Regularly wipe the dust off the lamp using a slightly damp cloth, or a soft brush. Always unplug the lamp before changing the light bulb for safety. The bulb may be changed by pinching the sides of the insert and withdrawing the light fitting from the base. Tea-light Holders can be replaced from the top of the Tea-light Holders.
Each Lumiere de Sel Natural Shape Himalayan Crystal Salt Lamp is unique. Size varies between 3.5 - 6.5 kg.
Highlights

Shipping & Returns
Unfortunately, due to the nature of this item, we cannot accept any returns.
This product cannot be shipped to Remote locations.
Click here for more information